Intel fixes SSD flaw
Intel has restarted shipments of its X25-M and X18-M SSDs after fixing a data blocking bug.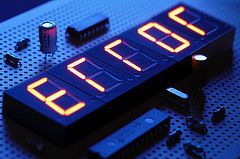 Intel has resumed shipping its latest generation of solid-state drives, after dealing with a bug that rendered all data inaccessible.
The X25-M and X18-M SSDs were launched amongst much fanfare back in July, with Intel promising that the new drives, based on 34nm manufacturing technology, would be faster and much more affordable.
However, shortly after launch it emerged that users who changed a BIOS password for the drive would soon find themselves locked out of their own data.
"If a user has set a BIOS drive password on the 34nm SSD, then upon disabling or changing the BIOS drive password, followed by powering off/on the computer, the SSD becomes inoperable," the company admitted in a statement.
The drives were swiftly yanked from the shelves while the company got cracking on a fix, now available as a firmware update on the Intel website. All new drives will have the update applied as standard.
The drives come in 80GB and 160GB variants and are aimed at both desktop and laptop machines. Intel says the new drives reduce latency by 25 per cent compared to the 50nm drives it launched last year, achieving speeds of 65 microseconds. Random write performance has also doubled, the chip maker claimed.
A daily dose of IT news, reviews, features and insights, straight to your inbox!
A daily dose of IT news, reviews, features and insights, straight to your inbox!
Thank you for signing up to ITPro. You will receive a verification email shortly.
There was a problem. Please refresh the page and try again.