Top 10 technologies for SMBs
We take a look at the business technologies that small and medium-sized businesses (SMBs) can use in 2010 to reduce costs, improve efficiency and encourage growth.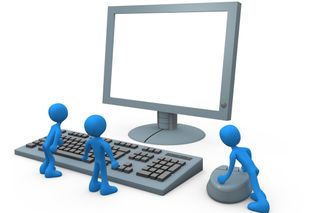 Last year, the biggest recession since the 1930s hit the global economy.
Although apparently the worst is over, companies large and small should still be looking to save money and lower costs.
We look at 10 technolgies SMBs should consider to save money and make their business more competitive.
Cloud computing
One of the most attractive aspects of cloud computing is the savings it affords SMBs.
Previously, businesses had to invest in expensive IT infrastructures and employ IT staff to maintain it - both of which come at a high cost. However, the advent of the cloud means that businesses no longer have to do this.
An entire business platform can be stored and maintained securely on the web and be accessed from anywhere - all that is required is a PC and an internet connection.
Cloud computing affords SMBs greater employee mobility, significantly lower IT costs, improved storage capabilities and a highly automated business platform - and all with little or no investment.
Unified communications
UK SMBs spend a reported 2.5 billion a year on travel, which is a significant cost of business by anyone's standards.
Unified Communications (UC) can help small businesses reduce travel costs through the use of web-based applications like video conferencing, instant messaging, and VoIP.
With UC, business communication, instead of being done face-to-face, is done over the web, in real-time, so that the problems and costs associated with travel are eradicated.
IBM, Microsoft and Cisco all offer UC solutions for businesses. Couple this with the affect global warming is having on travel and the necessity for businesses to cut costs, and it seems fairly likely that UC will be a pretty significant business tool in the very near future.
Open source software
According to Gartner, by 2011 at least 80 per cent of commercial software will contain significant amounts of open source code.
For smaller businesses, the most obvious benefit of open source is just how cost effective it is - the majority of open source software is free and can be downloaded, installed and used from the web.
For example, a Linux distribution like Ubuntu has no Microsoft-style licensing fee. In addition to this, companies like JBoss and Red Hat now provide complete training, maintenance, and upgrade solutions for open source business users.
When considered in this context, it's hardly surprising that more and more SMBs are starting to embrace open source solutions over costly proprietary solutions.
A daily dose of IT news, reviews, features and insights, straight to your inbox!
A daily dose of IT news, reviews, features and insights, straight to your inbox!
Thank you for signing up to ITPro. You will receive a verification email shortly.
There was a problem. Please refresh the page and try again.