Microsoft holds mock funeral to bury the competition
Software giant's staff lay to rest the iPhone and Blackberry in Redmond parade.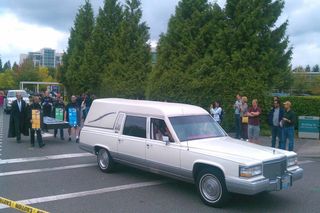 The enthusiasm of Microsoft's employees bubbled over in a mock funeral for the Apple iPhone and RIM's BlackBerry devices at its Redmond Campus in the US last Friday.
The fancy dress parade was a mini Mardi Gras complete with floats, a marching band, Darth Vader on a motorbike and two hearses. There was also a group of zombies who performed their rendition of Michael Jackson's "Thriller".
The march was a celebration to mark the release to manufacturing (RTM) of Windows Phone 7. The RTM was actually delivered on 1 September but the slightly belated celebration indicates that an unveiling of the release models of smartphones is in the air. The rumoured date and time is believed to be 11 October in New York.
Oversized mock-ups of the iPhone and BlackBerry were carried like coffins behind the hearses and a truck bore a banner with the words "Windows Phone 7 OS Platform buries the competition" flanked by two tombstones.
The only mention that Android had was a Falling Rocks roadsign which stated "Andr*** Falling".
Photographs taken by Microsoft software design engineer in Test (SDET) Carl Jamilkowski with an HTC Evo 4G which normal runs on the Android OS.
Microsoft has said that there have been 10,000 handheld devices running automated tests and that WP7 was subjected to 3.5 million hours of stress testing and another 8.5 million hours of normal testing.
The release of WP7 is a big play for Microsoft as it tries to regain mind share for its operating system which, as chief executive Steve Ballmer admits, missed a generation of smartphone releases.
A daily dose of IT news, reviews, features and insights, straight to your inbox!
A daily dose of IT news, reviews, features and insights, straight to your inbox!
Thank you for signing up to ITPro. You will receive a verification email shortly.
There was a problem. Please refresh the page and try again.