Microsoft IE 9 beta launched worldwide
Software giant Microsoft has taken the wraps of the beta for the latest version of its Internet Explorer browser.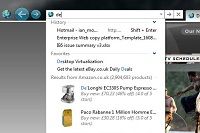 Microsoft has officially made the beta version of Internet Explorer (IE) 9 available worldwide.
The software giant claims IE9 puts the applications and website that matter most to user at the heart of browsing, serving up a faster, smoother and more secure experience as a result.
The browser uses Smartscreen Filter technology and a download manager to ensure users are prompted during downloads as to whether a site is trusted or not in a more informative manner - based on reputation - as well as making better use of users' search history and trends.
Users can also 'pin' sites directly to the Windows taskbar. These sites can then display so-called jumplists to shortcut to common tasks associated with that site. Aero Snap, as in Windows 7, is also on the menu so that two websites can be displayed easily side by side.
"The web is about sites; your browser should be too. Internet Explorer 9 is about making those sites shine, and we're delighted that so many sites have come out with us today to create the kind of richness on the web that wasn't possible before," said Dean Hachamovitch, corporate vice president of Windows Internet Explorer at Microsoft.
IE 9 also brings with it support for HTML5 to take advantage of the graphics processing unit (GPU). This equates to less work for the CPU and is believed to free up 90 per cent of a computer's power that previously went unutlised by web browsers, according to Microsoft.
The aim is to make web applications appear and behave more like local applications, product manager Ian Moulster told IT PRO.
"If you go to a theatre to experience a play you want to see it at its best," he said "[Here] the browser is the theatre and the web is the play."
A daily dose of IT news, reviews, features and insights, straight to your inbox!
Maggie has been a journalist since 1999. She started her career as an editorial assistant on then-weekly magazine Computing, before working her way up to senior reporter level. After several years on the magazine, she moved to 'the other side of the fence' to work as a copywriter for a marketing agency, writing case studies and working on ad and website copy for companies such as eBay, Dell, Microsoft and more. In 2006, just weeks before IT Pro was launched, Maggie joined Dennis Publishing as a reporter. Having worked her way up to editor of IT Pro, she was appointed group editor of Cloud Pro and IT Pro in April 2012. She became the editorial director and took responsibility for Channel Pro, in 2016. Her areas of particular interest, aside from cloud, include management and C-level issues, the business value of technology, green and environmental issues and careers to name but a few.
A daily dose of IT news, reviews, features and insights, straight to your inbox!
Thank you for signing up to ITPro. You will receive a verification email shortly.
There was a problem. Please refresh the page and try again.