Cloudera bolsters Hadoop corporate offering with Enterprise 3.5
The new software is designed to bring Hadoop clusters up to enterprise standard.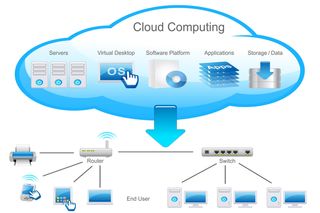 Cloudera is pushing for more enterprise-level adoption of Hadoop with its latest release, Cloudera Enterprise 3.5.
The company claims the new offering will enable businesses to manage Hadoop clusters in a much simpler way, thanks to en
Hadoop enables multiple applications to be run across commodity software thanks to its Map/Reduce functionality, splitting both applications and data into smaller chunks which can be stored anywhere across a cluster.
"We have seen extensive adoption of Apache Hadoop across our client base, but the management challenges of running the Hadoop stack in production can be prohibitive," said Matt Dailey, Hadoop applications developer for the High Performance Computing Centre at SRA International.
"This latest release of Cloudera's Management Suite goes a long way to giving enterprises the confidence to operate a Hadoop system in production."
Headline features include the new Activity Monitor a real time overview of the Hadoop infrastructure at granular levels and an improved Resource Manager and Authorisation Manager for scrutinising usage and general administration.
However, it is the Service and Configuration Manager (SCM) Cloudera is really shouting about. Within Cloudera Enterprise 3.5, this feature speeds up Hadoop deployment and configuration and is capable of automating a number of processes, including security.
An additional tool called SCM Express has also been unveiled as part of the launch. This aids deployment, configuration and management of all the Apache Haoop services on offer, and results in set up times that are minutes rather than weeks, according to Cloudera. It is also offered as a free download.
"You should be able to easily manage your systems while your usage of Hadoop evolves and grows. Cloudera helps enterprises plan for the inevitable changes," said company chief executive Mike Olson.
"With the release of Cloudera Enterprise 3.5, we are not only introducing new levels of transparency and automation, but we're injecting best practices Cloudera has learned over many years of helping enterprise customers build and manage Apache Hadoop-based systems."
Both Enterprise 3.5 and SCM Express are available immediately.
A daily dose of IT news, reviews, features and insights, straight to your inbox!
A daily dose of IT news, reviews, features and insights, straight to your inbox!
Thank you for signing up to ITPro. You will receive a verification email shortly.
There was a problem. Please refresh the page and try again.