Q&A: Bonin Bough, head of social media, PepsiCo
We talk to PepsiCo's digital and social media director about the company's initiative to champion innovation and how to stay one step ahead of competitors using technology.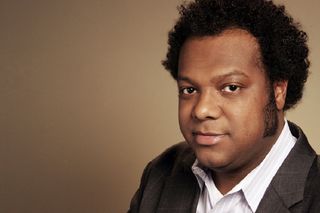 PepsiCo recently launched a challenge to find the next big thing in terms of technology in Europe, following a successful initiative in the US.
We spoke to head of social media Bonin Bough to find out more
You've just announced the PepsiCo 10 finalists. Can you tell us more about this initiative and what you're setting out to achieve?
This is the second PepsiCo 10. The first one was US-focused. The broad concept is "how do we create a platform for digital innovation?" and, then "how do we create and operationalise that platform so that it's continuously allowing us to see what the future looks like in the next 6-18 months?" [It's a focus on] technology that's going to change the way our consumers engage. At the same time it's more than just seeing what those technologies look like; we also actually run pilots with them.
The inspiration and new thinking that they're applying to building these digital platforms is contagious.
We look at what those technologies are, but also at what the potential business impact of those technologies is too. That's the ethos that surrounds PepsiCo 10. At the same time, it's about having those technologies come in and present to us so that people from across the business have a chance to also see what the future looks like and a chance to work [with and learn] from then.
It also gives us a global digital insight. For example, what we saw in the US was second screen, companion viewing, barcode-based in-store applications and so on. When you shift over to the UK, we see more ecommerce, more mobile, more social commerce type of platforms.
It begins to start painting a picture for us in terms of where resources and investments are being focused around the globe. And that's not just from the 10 we selected we had the chance to look at 130 technologies from across Europe.
We are implementing pilots with those 10 across the portfolio, at the same time allowing our people the chance to work closely with the entrepreneurs that, quite frankly, are setting the future. That, I think, is extremely exciting. The inspiration and new thinking that they're applying to building these digital platforms is contagious.
That, mixed with the fact we have, I think, some of the best marketeers in the world and some of the people who are the best technologists in the world, coming together is just a recipe for transformational thinking in the way we market to and engage with our consumers.
Watch the video below to find out a bit more about PepsiCo 10's aims and ambitions.
Did you always plan to bring the initiative over to Europe?
As we were going through the first PepsiCo 10 we thought "wow this really is an engine for innovation. We should think about how we globalise this."
The UK/Europe was clearly a huge opportunity and destination for us to reach beyond just one country to multiple countries. It was a chance for us to see what technologies in a super important market for us are going to look like.
When you think about it this is a huge competitive advantage for us. Very few companies can say "not only do we know what the technologies are but we've actually worked with them and carried out pilots in those market places."
You also see very local differences. The reason we have seen so much ecommerce stuff in the UK is because you guys are the largest ecommerce country. That [gives us] a very localised experience.
A daily dose of IT news, reviews, features and insights, straight to your inbox!
Maggie has been a journalist since 1999. She started her career as an editorial assistant on then-weekly magazine Computing, before working her way up to senior reporter level. After several years on the magazine, she moved to 'the other side of the fence' to work as a copywriter for a marketing agency, writing case studies and working on ad and website copy for companies such as eBay, Dell, Microsoft and more. In 2006, just weeks before IT Pro was launched, Maggie joined Dennis Publishing as a reporter. Having worked her way up to editor of IT Pro, she was appointed group editor of Cloud Pro and IT Pro in April 2012. She became the editorial director and took responsibility for Channel Pro, in 2016. Her areas of particular interest, aside from cloud, include management and C-level issues, the business value of technology, green and environmental issues and careers to name but a few.
A daily dose of IT news, reviews, features and insights, straight to your inbox!
Thank you for signing up to ITPro. You will receive a verification email shortly.
There was a problem. Please refresh the page and try again.