Is Amazon a threat to Apple?
Apple has looked unbeatable in the tablet and smartphone market for some time. But could Amazon be the brand that threatens to topple it? Simon Brew takes a look.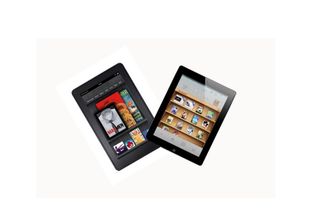 Given that it is only a few weeks since Amazon formally announced new tablet computers, in particular the Kindle Fire, the response has been really quite significant.
Reports are already coming in that Amazon is taking orders at a rate of around 20,000 a day, after a first day sale of 95,000. This means that, by the time the Kindle Fire is officially released, it should have 2.5 million pre-orders in the bank.
Revealed at the end of September, the Kindle Fire is a $199 (125) unit in the US, which makes it less than half the price of Apple's market-leading iPad. And it's very much the iPad that it's targeting: this is a feature-packed tablet, working on an Android operating system, with Apple in its crosshairs.
Most early reports suggest that the Kindle Fire is no iPad Killer, but Amazon doesn't seem to have much intention of winning an arms race. Rather, it's trying to put together a product that does enough, at a tight price.
Bigger threat
Amazon is not the first to take Apple on in this market. Yet it has one or two potent weapons that, to Apple at least, must make Amazon more of a threat.
Amazon has something that even Apple doesn't: the most popular online shop on the planet. Just look at how it leveraged that to make the first generation of Kindle products such a success, integrating the books it sells on its site into the technology seamlessly. By selling the content and providing the means to view it, it brought down barriers between the two.
Furthermore, the front page of Amazon's website is seen by millions upon millions of people. And it's there that the firm chose to promote the Kindle line. No wonder the Kindle became the biggest selling product in Amazon's history.
With the Kindle Fire, it's surely going to deploy the same tactics. We have already seen the evidence of this, with the front page of Amazon UK turned into a news page, effectively, announcing the new 89 Kindles (the Kindle Fire is still a little way off a UK release). Even accepting that Apple's iTunes store is hardly shy of visitors, Amazon is the only company on the planet that could, realistically, stand toe-to-toe with that strength, and even eclipse it.
It is this sheer brute force that has driven pre-orders for the Kindle Fire. And while that's not at Apple iPad launch levels, for the executives at Apple, they must be aware that Amazon has come closer than most. Moreover, the firm is going to keep snapping at its heels.
Salvo
The Kindle is the first major salvo by Amazon in the hardware war, and it has been a sizeable success (appreciating it has been targeted at those looking to read books electronically). And, assuming that the Kindle Fire continues that trend, there is a longer-term question about where Amazon stands as a player in the entertainment and technology hardware market.
That is in an interesting place: just by launching the Kindle Fire, it suddenly has a product that competes with many of the companies that sell across its website. It also has a product that can tie into yet more content that it sells and provides: music and videos spring to mind. And Amazon will surely have looked at further portable digital devices. Would you really bet against a future Amazon Phone?
That said, Amazon may have to tread carefully. Given its massive strength in the marketplace, regulatory attention will not be too far away if the retailer is seen as flexing its muscles too much. Even against a competitor as strong as Apple, that has to be a concern.
Another concern for Apple, it is not yet a major cause for alarm, is the fairly muted response to the announcement of the iPhone 4S. So far the iPhone one of the few product announcements in recent times from Apple that seems to have underwhelmed. But then, Apple is a company that has had a difficult past few months for other reasons.
Business case
Amazon's policy of selling its products at a lower price is likely to enjoy success with consumers. But, for business, is that quite so tantalising? Although there can be no CEO in the country who would not like to save a few extra pounds, the more immediate question is whether the Kindle Fire is a worthwhile business tool.
Early indicators are less positive. The limited 8GB of storage space is not helpful. The Amazon-specific variation of the Android operating system may do it few favours, too. The limited Amazon App Store, and the bundled web browser, should also be added to the list of potential problems.
The Fire is arguably closer to the Blackberry Playbook, as things stand, and that is a product that has barely made a dent in the marketplace. Even though Amazon has the clout and power to make more of its Kindle Fire, there are clearly still limits to how far it can reach.
But it may be the longer game that is more interesting. Microsoft, even with Windows 8, is offering limited competition for Apple in the smartphone and tablet market (the tie-in with Nokia has hardly borne fruit). Android has much more potential, but is spread across numerous hardware brands. And RIM's Blackberry line faces challenges.
This leaves Amazon with an opportunity. The Kindle Fire isn't being targeted as a business-specific device. But it is a chance for Amazon to gain further market penetration, and put itself in position to launch a concerted attack on Apple further down the line.
It might not be this generation that Amazon emerges as a major competitor and threat to Apple. But few would argue against the possibility of that changing in the not-too-distance future.
A daily dose of IT news, reviews, features and insights, straight to your inbox!
A daily dose of IT news, reviews, features and insights, straight to your inbox!
Thank you for signing up to ITPro. You will receive a verification email shortly.
There was a problem. Please refresh the page and try again.