uSwitch: UK miles away from superfast broadband targets
The UK is no way near getting Government targets on superfast broadband, according to a uSwitch report, but BT thinks the research is rubbish.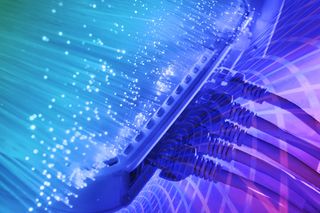 The Government is far from its goal of having high-speed broadband covering most of the UK by 2015, uSwitch.com has claimed.
According to body, the average broadband download speed across the UK is 6.742Mbps, but a third of postcode areas receive speeds even lower than 5Mbps.
One in ten UK postcodes are operating at a snail's pace with download speeds less than 3Mbps, uSwitch said. This is at least six times lower than the basic superfast broadband speed of 20Mbps.
The data is based on over 1.68 million broadband speed tests carried out by home and business users over the past six months.
Those who live in the village of Winchelsea, in East Sussex, inhabit the slowest postcode in the UK, with an average broadband download speed of 1.11Mbps.
The study also took into account population size in a city relative to the average download speed in that location.
"Hereford has a population of more than 55,000, and yet average download speeds are a pedestrian 3.196Mbps, more than 50 per cent slower than the national average," the report read.
"Lancaster, with a sizeable population of almost 134,000 and home to two universities, is also below the national average speed, at 5.479Mbps. At this speed, it would take just under 24 minutes to download a standard quality 1.5GB movie.
"These figures bring into sharp focus the challenge the Government faces if it is to fulfil the pledge made back in December 2010 that everyone in the UK would have access to superfast broadband by 2015."
BT poking fun
Yet BT has mocked uSwitch's research. "As for uSwitch's claim that 49 per cent of homes have speeds below the average, hey, that's math for you," a spokesperson told IT Pro.
According to BT, the uSwitch.com survey mixed up current broadband speeds with the availability of superfast broadband.
"It isn't as simple as that," a spokesperson said.
"Just because users in a certain area have an average speed of say 6Mbps, it doesn't mean that customers in that area don't have access to much faster speeds."
BT explained that the current average broadband speed is due to the fact that most users will be on older copper broadband whereas fibre optic broadband may be fairly new to the area or not even available yet.
"Just because the average speed in a city is 6Mbps it also does not mean that customers in that area can't order a much faster service should they want to," a BT spokesman commented.
A daily dose of IT news, reviews, features and insights, straight to your inbox!
A daily dose of IT news, reviews, features and insights, straight to your inbox!
Thank you for signing up to ITPro. You will receive a verification email shortly.
There was a problem. Please refresh the page and try again.