The best of both worlds: Building a successful hybrid workplace
Research reveals that delivering consistent cloud collaboration experiences to users is critical to future ways of working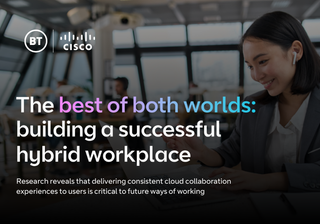 Over 1,500 business and IT executives in global organisations across a range of industries were asked how their companies are adapting to hybrid work. This paper breaks down that research and reveals how delivering consistent cloud collaboration experiences is critical to future ways of working.
What's clear is that global organisations consider cloud-based collaboration tools and applications as central to the evolving hybrid workplace. They're open to expanding their collaboration capabilities, believing effective tools are key to productivity as well as increasing employee wellbeing and sustainability efforts.
Although teams are receptive to these changes, it seems organisations have a long way to go in delivering the needs of teams to be able to work effectively in the hybrid workplace.
The paper delves into:
the current landscape and how collaboration tools have aided productivity
the effects of hybrid work on company culture
the role of cloud in collaboration technologies for hybrid work
how AI will propel collaborative working practices
the impact of hybrid work on sustainability goals
nine steps to planning your future of work strategy
Enhance productivity and employee wellbeing in your hybrid workplace.
This paper has been republished with permission of BT. Source publication.
Provided by BT
A daily dose of IT news, reviews, features and insights, straight to your inbox!
A daily dose of IT news, reviews, features and insights, straight to your inbox!
Thank you for signing up to ITPro. You will receive a verification email shortly.
There was a problem. Please refresh the page and try again.