Three reasons to care about the third-generation iPad
It might not be called the iPad 3, but we give you three reasons to care about the tablet despite yesterday's underwhelming launch.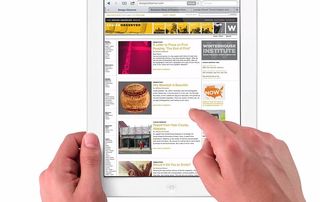 The new iPad arrived yesterday. Despite being the third-generation iPad and having 1080p (otherwise known as full HD) capability, it was not the iPad 3, nor the iPad HD as some continued to call it even after the launch.
On initial inspection, the new iPad is an underwhelming beast. Some had expected/hoped haptic technology would be added, making the tactile experience truly unique. Others wanted additional ports, which they didn't get.
Despite some analysts reverting to clichs like "it's an evolution, not a revolution," last night was one of the most uninspiring Apple launches to date.
Sadly, Apple has decided to use the term "resolutionary" in its marketing puffery.
But there are a few reasons to like the new iPad. In the nomenclatural absence of the numeral 3', here's three of them...
The display
Undoubtedly the most exciting thing about the new iPad, the screen packs in a load of pixels. The Retina'-style display at 2,048 x 1,536 squeezes in 264 pixels in every inch. That's better than any other tablet on the market and makes for some seriously high-definition viewing.
For businesses, that should help make video calls, whether over Skype, Citrix GoToMeeting, or whatever you use, significantly better. Reports will look a bit shinier too, with potential for aesthetically pleasing interactive 3D graphs, which everyone loves, right?
Sadly, Apple has decided to use the term "resolutionary" in its marketing puffery. So they've tainted the excitement a bit there...
The power
This is something of a contentious area at the minute, but if Apple's claims are to be believed then the A5X processor inside the iPad has some serious clout. The vendor claimed it was five times faster than Tegra 3 Nvidia's quadcore CPU found in the Asus Eee Pad Transformer Prime, amongst other iPad rivals.
We'll have to wait until we actually get our hands on the device, but if it does contain that much power, graphics and speed will both get a major boost. The demo last night of Infinity Blade: Dungeons has already wowed many. Especially those who love big, shiny swords.
4G... when we get it
The UK won't get 4G until the end of this year at the earliest. Even then, it will be limited to Everything Everywhere customers, if the Orange and T-Mobile merged company gets Ofcom permission. LTE connections won't cover most of the country until 2017, according to current estimates.
Nevertheless, for those who do get to use their iPads over a 4G connection, it will be a lot of fun. Imagine collaborating in near real-time when on the move. Or being able to download all those impressive apps from the App Store at speed, without running over Wi-Fi.
For now, many will still be able to enjoy decent speeds (Apple claimed 42Mbps) over HSPA+. That's enough to get excited about for now.
A daily dose of IT news, reviews, features and insights, straight to your inbox!
A daily dose of IT news, reviews, features and insights, straight to your inbox!
Thank you for signing up to ITPro. You will receive a verification email shortly.
There was a problem. Please refresh the page and try again.