Samsung Galaxy Note 7 price, specs, features: 150 tons of precious metals to be reclaimed from Note 7
Samsung is expecting to recover gold, silver and cobalt from recycled devices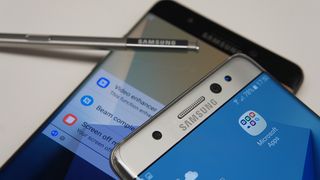 Latest News
18/07/2017: Samsung is expecting to reclaim more than 150 tons of rare metals, including gold, as part of the Note 7 recycling process.
The company is in the middle of recycling the entire initial production run of the Galaxy Note 7, after faulty products prompted a full recall last year. Electronics components like display and camera modules will either be sold or used as part of refurbished and re-released Note 7 FE units.
In addition, Samsung also announced that 157 tons of gold, silver, cobalt and copper will be extracted as part of the recycling efforts. The company will work with both foreign companies and those in its native South Korea to recycle any materials reclaimed from the Note 7 in a safe and environmentally-friendly way.
Samsung is not the only company to make public commitments regarding the environmental sustainability of its products and manufacturing processes. Apple has also been championing its own efforts to go green, cutting the greenhouse gas emissions associated with the aluminium shell of the 13in MacBook Pro and the iPhone by 48% and 60% respectively, compared to the previous generation.
The refurbished Note 7 FE went on sale in South Korea earlier this month. It is currently unknown whether the reborn device will be coming to other markets, with Samsung indicating that the decision will be based on the sales figures for the initial run.
03/07/2017: Samsung has officially unveiled the refurbished version of its exploding Note 7 handset, that will arrive back on the market after a full product recall of the original device.
The Note 7 has been reborn as the Galaxy Note 7 'Fan Edition' (or Note 7 FE), and will hit shelves in South Korea for 700,000 Korean Won (469) - which is roughly three-quarters of the original device's asking price.
The Note 7 will be available in South Korea from 7 July, but it's currently unknown whether the device will be making it to other territories. Samsung has said it will decide whether or not to move back into additional markets after the first run of 400,000 units, but has already ruled out a return to the US.
The phone is largely unchanged in terms of its hardware and features; unsurprisingly, the battery has been reduced in size, and the new power cell has been put through the company's updated eight-point battery safety check. Support has also been added for Samsung's digital assistant Bixby.
Rather than creating a fresh production run, Samsung is creating the new Note 7 FE units from recycled and unused parts of previous Note 7 units in order to minimise the environmental (as well as financial) impact of having to do a full product recall of more than 3 million devices.
Samsung has assuaged any potential fears about the new device, promising that the Note 7 FE has "perfect safety".
The Samsung Galaxy Note 7 has been permanently recalled following technical flaws, which in rare cases caused the device to spontaneously combust. As such, it is no longer on sale, and the company has taken measures to disable any models which may still be circulation in the wild. Our original coverage of the Note 7 has been preserved for posterity below.
Note 7 Review
IT Pro reviewed the Note 7 prior to its unfortunate demise. We thought it was one of the best phones of last year (aside from the whole exploding thing, of course). As such, we've got very high hopes for the refurbished version - assuming Samsung has been able to fix the battery issues, the Note 7 may just be able to reclaim its place as one of the best devices in recent memory.
Read our full Galaxy Note 7 review here.
Price and release date
The Note 7 became generally available on 2 September 2016, but was recalled by the end of the year following a battery fault that caused the devices to catch fire and explode. However, Samsung has pledged to bring refurbished Note 7 units back to the market.
These are rumoured for release on 7 July, but there may only be around 400,000 units available to customers, so anyone that wants to get their hands on a non-exploding Note 7 may have to move quickly.
Specs and hardware
Like previous Galaxy devices before it, the Note 7 sportings different components depending on which territory you buy it in. In the UK, it will be fitted with the same own-brand Samsung Exynos 8890 octo-core CPU as the Galaxy S7, while other areas will get Qualcomm Snapdragon models.
The Note 7 comes with a 4GB RAM allocation, and while that's not quite as much as the rumoured 6GB amount, it still rivals some of the best-equipped phones on the market. Having said that, there are still rumours that a 6GB variant with increased storage capacity could turn up in China.
Speaking of storage, this is one area in which the Note 7 excels. Samsung has upped the basic storage allocation to 64GB, which is a sizeable chunk to begin with. On top of this, the Note 7's storage can be expanded via MicroSD card, up to a maximum of 256GB.
The Note 7 also uses the Vulkan graphics API, a set of runtime libraries that offers lower overheads and CPU usage to deliver better gaming performance. This means that even intensive 3D mobile gaming should be silky smooth.
The device carries the same camera as the Galaxy S7, rather than an upgraded model as was rumoured. Given that the S7's snapper is still one of the best in its class, however, that's no bad thing.
Display
The Note 7 has a whopping 5.7in screen, which fits in with the device's focus on productivity. However, thanks to clever refinement of the Galaxy S7 design template, it doesn't feel markedly bigger than its stablemate.
Like most other Samsung devices, it's fitted with a Super AMOLED panel, and bears the same curved edges as the S7 Edge (this time protected by Gorilla Glass 5). Samsung has also wisely opted to stick with a QHD display for the Note 7 rather than bumping the resolution up to 4K.
Battery and charging
Just as rumours suggested, the Note 7 will be the first Galaxy device to use the new USB Type C charging standard. This reversible socket type has many benefits, but is unfortunately not compatible with MicroUSB chargers and accessories.
However, in a classy and commendable move from Samsung, the Note 7 will come with a MicroUSB-to-USB Type C adapter in the box, meaning you won't have to replace all of your existing accessories straight out of the gate.
The battery itself is actually lower in capacity than the one used in the Galaxy S7 Edge, with a 3,500mAh capacity rather than 3,600mAh. This is slightly worrying given that it's got a larger screen and more features to power, but hopefully, Samsung has implemented some form of software optimisation in order to address this.
S Pen
As is tradition with Note devices, the Note 7's S Pen stylus is the star of the show. It's been slightly redesigned, with a smaller 0.7mm nib giving improved accuracy and precision. Samsung has also collaborated with stylus specialists Wacom on its design.
The various apps associated with the S Pen's functions have combined into the new Samsung Notes app. Hovering over the screen with the S Pen will once again bring up a list of shortcuts, which allow users to take notes, scribble on a screenshot, record instant gifs and even translate words using Google Translate. Notes can also be pinned to the always-on display.
Just like previous generations, the S Pen slides into a housing on the bottom of the phone, and - most importantly - the unbelievably satisfying clicker introduced with the Note 5's stylus has made a return.
Design and features
The Galaxy Note 7 is the first major flagship release to include an iris scanner for biometric authentication. Supplementing the existing fingerprint reader, this allows users to register their iris print and log in just by looking at their device, similar to Windows Hello.
In addition to this, Samsung is introducing a secure folder, which is a place to keep all the most private information on your device, protected by biometric security.
Elsewhere, the IP68 waterproofing reintroduced by the Galaxy S7 has also found its way to the Note 7, meaning it's protected against immersion in 1.5m of water for up to five minutes. The Note 7 weighs just 169g and is a mere 7.9mm thick. It's also perfectly symmetrical and feels almost indistinguishable from the Galaxy S7 Edge when held in the hand.
Get the ITPro. daily newsletter
Receive our latest news, industry updates, featured resources and more. Sign up today to receive our FREE report on AI cyber crime & security - newly updated for 2023.
Adam Shepherd has been a technology journalist since 2015, covering everything from cloud storage and security, to smartphones and servers. Over the course of his career, he's seen the spread of 5G, the growing ubiquity of wireless devices, and the start of the connected revolution. He's also been to more trade shows and technology conferences than he cares to count.
Adam is an avid follower of the latest hardware innovations, and he is never happier than when tinkering with complex network configurations, or exploring a new Linux distro. He was also previously a co-host on the ITPro Podcast, where he was often found ranting about his love of strange gadgets, his disdain for Windows Mobile, and everything in between.
You can find Adam tweeting about enterprise technology (or more often bad jokes) @AdamShepherUK.