UberEats struggles to meet demand on launch day
Users complain of late or cancelled deliveries on service's first day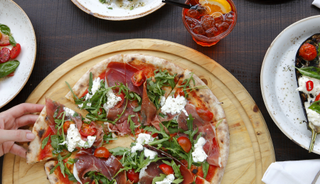 Uber's food delivery service, UberEats, ran into a few problems on its London launch yesterday, with users complaining of missed orders and embarrassing uniform mishaps.
Customers took to social media to voice their complaints, with many claiming their orders had been cancelled or that deliveries had arrived with drivers wearing the uniform of rival company Deliveroo.
"Inauspicious start for UberEats. Delivery driver was dressed in Deliveroo garb, restraurant receipt said Jinn on it, and order was wrong," tweeted James Titcomb (@jamestitcomb).
When our sister site, Alphr.com, made its own orders, two out of four were cancelled, with the restaurant saying that they were unable to meet the high level of demand.
Alex Czarnecki, general manager for UberEats, said in a statement: "It would seem London is very hungry indeed. We are blown away by the demand we have seen for UberEats, especially during our launch yesterday. Unfortunately, due to the incredibly high demand, a handful of orders took a little longer than we'd have liked. We are following up with users to make sure they can get lunch on us next time around."
UberEats launched in London on Thursday 16 June, entering into the increasingly crowded food delivery market. The service will allow consumers and businesses to order and pay for food directly through the app on iOS and Android.
The company said it will offer food deliveries from more than 150 restaurants including Gotbox, Pho and Snog, but will initially only be available in a small area of central London between 11am and 11pm.
Free delivery is available for the first month, and Uber is offering up to 20 off future orders should deliveries not reach the customer within 30 minutes.
16/06/2016: UberEats arrives in central London
Uber has launched its food delivery service, UberEats, in London today in an effort to take a slice of the competitive on-demand food market.
Consumers and businesses are able to order and pay for food directly from the UberEats app for iOS and Android.
The company said it is offering dishes from over 150 restaurants, including The Good Life Eatery, Hotbox, Chilango, Pho, Comptoir Libanais and Snog.
"UberEats gives Londoners, restaurants and delivery partners more options. Restaurants can depend on the Uber delivery network to expand their businesses and reach a new network of potential customers. And delivery partners have access to new flexible economic opportunities," the company said.
UberEats will initially be available in central London from 11am to 11pm, seven days a week. There will be no minimum order size, and Uber is offering free delivery for the first month.
If food does not reach the customer within 30 minutes, Uber said its will give them up to 20 off their next order.
In the coming week, Uber is planning to expand its food operation beyond cental London, adding more restaurants to its roster.
UberEats is now available in 18 cities around the world. London is the first UK city the service is available, and the second European one, following its launch in Paris.
The service was originally available as an added feature within the Uber ride-hailing app, before launching as a standalone app in Toronto last year.
In the UK, UberEats faces competition from Deliveroo, Hungry House, Just Eat, Graze, and more.
Amazon recently launched an on-demand food delivery business itself, AmazonFresh, though that service is primarily competing with UK supermarkets.
A daily dose of IT news, reviews, features and insights, straight to your inbox!
Caroline has been writing about technology for more than a decade, switching between consumer smart home news and reviews and in-depth B2B industry coverage. In addition to her work for IT Pro and Cloud Pro, she has contributed to a number of titles including Expert Reviews, TechRadar, The Week and many more. She is currently the smart home editor across Future Publishing's homes titles.
You can get in touch with Caroline via email at caroline.preece@futurenet.com.
A daily dose of IT news, reviews, features and insights, straight to your inbox!
Thank you for signing up to ITPro. You will receive a verification email shortly.
There was a problem. Please refresh the page and try again.