Google big data sets forecast stock market movements, researchers claim
University researchers claim Google Trends data can predict stock market crashes.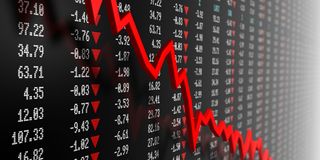 Google Trends datasets can be used to uncover early warning signs of stock movements, according to researchers.
Boffins from the Warwick Business School, University College London and Boston University revealed the finding in a research paper published in the journal Scientific Reports, which confirmed it is possible to use big data gleaned from search engines to forecast market behaviour.
The team looked at historical Google Trends data between 2004 and 2011, concentrating on 98 search terms related to finance, debt and stock markets.
Tobias Preis of Warwick Business School, Helen Susannah Moat of University College London, and H. Eugene Stanley of Boston University found that before a drop in the market, investors appeared to search for more information about markets.
"The results of our investigation suggest that combining large behavioural data sets such as financial trading data with data on search query volumes may open up new insights into different stages of large-scale collective decision making," the researchers wrote in their paper.
"We conclude that these results further illustrate the exciting possibilities offered by new big data sets to advance our understanding of complex collective behaviour in our society."
They said that warning signs unearthed in search volume data could be used to build profitable trading strategies.
"Our trading strategy can be decomposed into two strategy components: one in which a decrease in search volume prompts us to buy (or take a long position) and one in which an increase in search volume prompts us to sell (or take a short position)," the report said.
The researchers said that future work "will be needed to provide a thorough explanation of the underlying psychological mechanisms which lead people to search for terms like debt before selling stocks at a lower price".
"It is clear that many opportunities also remain to extend our analyses to further financial data sets," they added.
A daily dose of IT news, reviews, features and insights, straight to your inbox!
Rene Millman is a freelance writer and broadcaster who covers cybersecurity, AI, IoT, and the cloud. He also works as a contributing analyst at GigaOm and has previously worked as an analyst for Gartner covering the infrastructure market. He has made numerous television appearances to give his views and expertise on technology trends and companies that affect and shape our lives. You can follow Rene Millman on Twitter.
A daily dose of IT news, reviews, features and insights, straight to your inbox!
Thank you for signing up to ITPro. You will receive a verification email shortly.
There was a problem. Please refresh the page and try again.