Google sinks $14.5m into shared-AR startup Blue Vision Labs
The money will help the startup create group Pokemon Go-style experiences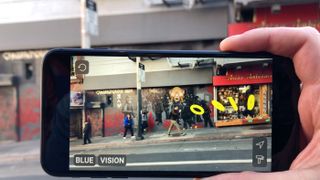 Google has invested $14.5 million (10.3m) into augmented reality startup Blue Vision Labs, which is developing a collaborative AR platform to take on Pokemon Go.
The company's Ventures investment arm has stumped up the cash, alongside other investors Accel, Horizons Ventures, and SV Angel to help Blue Vision Labs develop its cloud platform that encourages users to create interactive and shared experiences using a phone's camera.
The platform will be Blue Vision Labs' first live product since its launch in 2011, which will attempt to take the wildly successful premise of Pokemon Go, but create a shared experience within one AR environment.
The $14.5m Series A investment from Google and its fellow funders has come at a vital time for the company - it's just announced the launch of its Blue Vision AR Cloud, a platform that helps ensure all augmented reality users see the same things at the same time.
Just like Pokemon Go, you'll see various AR objects appearing in your real setting, although these items have been put there by collaborators on the platform rather than those Pokemon Go's creators have scattered around for you to find.
It would seem the possibilities are almost endless with Blue Vision Labs' platform though. Rather than hunting for Pokemon, you could use the development platform to create a navigation app, with the instructions to get to a location superimposed on the screen. It could be used to seek out the latest online deals on items in a shop, or you can find where your friends are with their avatars popping up if you're close (or on a map).
Blue Vision Labs also said that you would also be able to see highlights of a particular area you're walking through, so if you happen to pass a historic landmark, you may be able to view it as it stood hundreds of years ago, in its original glory.
"We're using this capital to empower developers to build widespread AR applications using our platform, and to grow our team," Peter Ondruska, Co-founder and CEO of Blue Vision Labs wrote in a Medium blog post.
"We plan to use our underlying technology to open new possibilities in AI, machine learning, robotics, self-driving and other applications. Our goal is to enable a better future where both AR and robotics technologies can be enjoyed by everyone."
Image courtesy of Blue Vision Labs
A daily dose of IT news, reviews, features and insights, straight to your inbox!
A daily dose of IT news, reviews, features and insights, straight to your inbox!
Thank you for signing up to ITPro. You will receive a verification email shortly.
There was a problem. Please refresh the page and try again.