How automation can help digital transformation
Incorporating automated procedures into your digital transformation plan will reap benefits in the future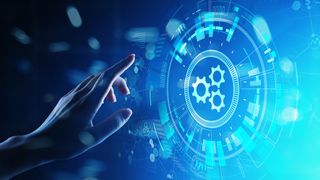 As digital transformation efforts advance, organisations are increasingly finding ways to use automation to make an impact on business processes. With a study from McKinsey estimating that up to 45% of work activities could be automated using technology that already exists, the potential for businesses to become more efficient and productive is clear.
In the long term, it could be argued that automation is the only way to successfully manage a modern IT environment that is ready for the future. Having a business-wide approach to automation will mean that it isn't just the IT department that benefits from new ways of working, but entire teams across the organisation.
However, it's not an all-or-nothing proposition. Here are some ways automation can help contribute - even in small ways - to a digital transformation strategy.
Accelerate operations
Many organisations already have some level of automation in place in their IT operations, even if that's just simple scripts or specific tools. Despite 83% of IT decision makers saying that workflow automation is essential to digital transformation, many business operations are still fairly manual, and any necessary updates to software or processes can be slow and error-prone.
RELATED RESOURCE
Diversity in the digital workplace
The future of work is a collaborative effort between humans and robots
Establishing workflows that can have automation introduced to them can greatly help with consistency and efficiency in business operations, as well as reducing errors. Automating repetitive tasks will also free employees up to spend time on things that matter.
One of the primary benefits automation offers is the potential to scale operations within the business with fewer resources. Testing automation tools can start on a small scale within a few projects, but, with an enterprise-wide unified approach to choosing these tools, it can be quickly scaled up across the business to accelerate collaboration and break down operational silos.
Business units should think carefully about relevant policies, services, cost models, potential integration issues and security and access requirements before introducing any automation processes across multiple teams. This will ensure that the business benefits of automation can be brought in line with digital transformation goals.
Workflow efficiencies
Automation tools can increase visibility into business operations, offering insight and clarity into workflows and processes. It can highlight inefficiencies that may not have been picked up on before, as well as deepening understanding of the different stages of the workflow for the whole team.
Deciding where to implement automated tools can start as simply as something like getting digital signatures on documents, before beginning a move towards a fully digitised document workflow.
It is vital that automation tools can include the entire lifecycle of the business process, rather than just focusing on the provisioning aspect. Optimising such processes is a key pillar of digital transformation.
Implementing process-based automation in this way increases both the speed at which tasks are completed, but also their reliability and consistency. This, in turn, will have a positive knock-on effect in terms of work continuity across the relevant departments.
Improving security and compliance
Automation can help in many areas of the business when it comes to security, governance and compliance. In fact, 47% of respondents to a survey by RedHat said that easing compliance and enhancing security were primary goals when it came to implementing automation tools in the business.
It can assist with identifying vulnerabilities and implementing fixes across the entire network, as well as learning what normal usage patterns are to be able to identify threats, and proactively manage vulnerabilities before a breach occurs. Some organisations are using automation for security testing, both at infrastructure and code level.
RELATED RESOURCE
Diversity in the digital workplace
The future of work is a collaborative effort between humans and robots
Compliance procedures can be simplified through automation. Compliance automation software can detect violations to an organisation's security policies, accounts, configurations and more. It is particularly helpful to companies who have to adhere to high standards when processing sensitive information, especially when regulations are frequently updated.
Enabling these procedures to be automated is a key step in the digital transformation journey of organisations who are looking to make meeting high compliance standards more straightforward and less time-consuming.
Start small
Rather than going all-in on automation, businesses can start small by automating just one task or service, be that compute, network, storage or something else. Then that automation can be shared with others and built on, and over time, full-scale automation will become something you can feasibly look at integrating effectively into your organisation.
Get the ITPro. daily newsletter
Receive our latest news, industry updates, featured resources and more. Sign up today to receive our FREE report on AI cyber crime & security - newly updated for 2023.
Esther is a freelance media analyst, podcaster, and one-third of Media Voices. She has previously worked as a content marketing lead for Dennis Publishing and the Media Briefing. She writes frequently on topics such as subscriptions and tech developments for industry sites such as Digital Content Next and What's New in Publishing. She is co-founder of the Publisher Podcast Awards and Publisher Podcast Summit; the first conference and awards dedicated to celebrating and elevating publisher podcasts.