WhatsApp will start charging businesses to chat with customers
It will be the first revenue stream the company has had since ditching its subscription model in 2016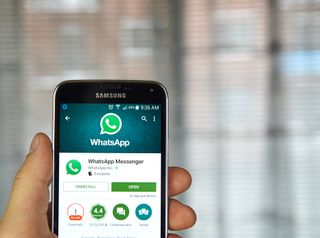 WhatsApp has released new tools that will charge businesses to send messages to their customers, in what's considered to be a first major play to monetise the platform.
In an update to its business API, companies will now be able to send their users' information, such as delivery confirmations or boarding passes. and communicate directly using real-time support and an inquiry form.
The new API will also allow businesses to chat with their customers or receive confirmed delivery messages, although they will be charged for doing so. Messages sent to customers will cost between 0.3p to 7p, depending on the region they operate in and can be automated or manually sent by agents.
In order to encourage businesses to respond quickly to their customers, messages sent within 24 hours of the initial inquiry will be free.
It's the first time that WhatsApp has introduced a direct charge for messages following its $19 billion takeover by Facebook in 2014.
All users had been previously required to pay a 69p annual subscription fee until this was scrapped in 2016 in favour of a plan to allow companies to chat with their customers, and charge them for doing so. However, it's taken almost two years for that plan to be put into place.
It's also the first major change to the API since the business version of WhatsApp launched back in September 2017, which has remained free until now. It's unclear whether the company will plan to introduce additional charges beyond messaging as there's potential scope to increase monetisation based on things like the number of customers a company engages with.
There's also the opportunity to expand its feature of allowing businesses to receive payments directly through the platform, which is currently being trialled in India.
However, the trial has only been possible thanks to the country's Unified Payments Interface (UPI), a fairly unique real-time payments platform that allows funds to be instantly transferred between banks and mobile. To expand this beyond India, the company would need similar systems setup elsewhere.
As is the case with standard messaging, communications between businesses and their customers will be protected by end-to-end encryption, so WhatsApp won't be able to access message content. However, it's believed that companies will be able to record messages and store them without encryption, according to the Wall Street Journal.
19/01/2018: WhatsApp Business launches in the UK
A new way for businesses to interact with their customers has been launched in the UK: WhatsApp Business.
The UK is one of five countries worldwide where the SMB-focused app has rolled out officially, having initially been in a pilot programme since September last year.
WhatsApp has traditionally been used, both as a consumer tool and within businesses, to engage in conversations among members of specific groups, say those working on a given project, for example, or to organise a social event. WhatsApp Business, however, is intended to open a new channel of communication between businesses and their customers.
"Our new app will make it easier for companies to connect with customers, and more convenient for our 1.3 billion users to chat with businesses that matter to them," the company said.
Features of the app include business profiles, for at-a-glance information on the company; some basic automation including quick answers for FAQs, greetings and away messages; and the option to access WhatsApp Business through the web, rather than the app.
Business accounts will also be marked as such, so users are aware they're engaging with a company, and a Confirmed Account status will be rolled out "over time" to some businesses, although there's no indication of time scales involved.
The WhatsApp Business app itself, which is currently only available for Android, only needs to be downloaded by the business user, with customers able to use their normal WhatsApp account.
"People will continue to have full control over the messages they receive, with the ability to block any number, including businesses, as well as report spam," the company said.
Main image credit: WhatsApp
A daily dose of IT news, reviews, features and insights, straight to your inbox!
Jane McCallion is ITPro's Deputy Editor, primarily covering security, storage and networking for ITPro, CloudPro and ChannelPro.
Jane joined ITPro and CloudPro in July 2012, having previously written freelance for a number of business and finance magazines. She has also covered current affairs, including the student, public sector workers and TUC protests and strikes in central London while studying a Masters in Journalism at Goldsmiths, University of London.
Prior to becoming a journalist, Jane studied Applied Languages at the University of Portsmouth.
A daily dose of IT news, reviews, features and insights, straight to your inbox!
Thank you for signing up to ITPro. You will receive a verification email shortly.
There was a problem. Please refresh the page and try again.