Should you upgrade to Office 2019?
The latest version of Microsoft's office suite is here - but what's new and is it worth upgrading?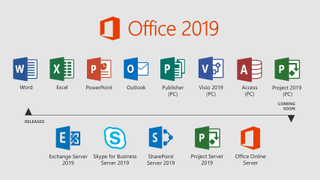 A new version of Microsoft Office used to be a big deal - second only to a new version of Windows. But these days, it lacks that sense of occasion. Even Microsoft's own announcement of the Office 2019's September launch was somewhat muted.
That's partly because Microsoft would much prefer its users to sign up for an ongoing subscription to Office 365 instead of paying a one-off fee for the standalone version. But it's also potentially due to the fact that there are now so many great free alternatives to Office - LibreOffice, or Google's free office web apps, for example - that Office itself is beginning to feel less relevant.
There are two main editions of Office 2019. The Home & Student edition comes with the latest versions of Word, Excel and PowerPoint, and costs 120 from products.office.com (or a little cheaper if you shop around online). Office Home & Business 2019 includes Word, Excel, PowerPoint, OneNote, and Outlook, and costs 250. There's also a 420 Office Professional 2019, which includes all seven Office applications (including Access and Publisher), but this is intended for businesses rather than individuals, so we won't be covering this here.
So, is Office 2019 worthy of your cash? Are there any must-have new features? Or would you be better off using free office software? Read on to find out.
Word 2019
For many, Word is the main reason to buy Office. It's a world-class word processing application that manages to cater for both home users and professionals. Disappointingly, however, most of Word 2019's new features appear to be aimed at the latter.
What's new?
Word 2019 gains support for the SVG scalable vector image format and rotatable 3D models, yet Word's most significant new feature is its ability to translate to and from different languages. Simply highlight a section of text and click Review, Translate, then Translate Selection and a Translator pane will appear, from where you can select your From and To languages. Translator also crops up in Excel and PowerPoint.
There's also a Read Aloud text-to-speech feature, which is handy but annoyingly easy to trigger by accident, if you happen to press Ctrl+Alt+Space. Also on board is a selection of different ways to view your documents, to help you focus on them when you're reading, including sepia and black page colours to help with eye strain as well as various text spacing and column width options.
These options are grouped under the Learning Tools button (in the View tab). If you happen to own a touch-enabled device, then you'll be pleased to hear that Word 2019 includes new tools in the Draw tab that let you write, draw or highlight text with a digital pen. The Draw tab is automatically disabled on non-touch PCs.
What are the alternatives?
If you want translation tools, look no further than Google Docs. The free online word processor has a quick built-in tool for translate your documents - just click Tool, then 'Translate document'. Google's translation accuracy isn't perfect, but then neither is Microsoft's. If you're running Office 2013 or later, you could also install Microsoft's free Translator plug-in.
Google Docs lets you translate entire documents with one click
Meanwhile, installing the free Reader Add-on for Google Docs provides you with an equivalent to Word's new Read Aloud feature. Similarly, you can add a text-to-speech function to LibreOffice Writer by installing a free extension called Read Text.
Excel 2019
Microsoft's Excel has long been the industry standard spreadsheet program and is included with all versions of Office 2019.
What's new?
The latest version of Excel shares some of Words improvements (including the new Draw tab tools and Translator) and offers some new features of its own, most notably the ability to publish to Power BI (Microsoft's business analytics service).
Excel 2019 lets you visualise data in funnel and map charts
The new Excel feature that got us excited is the ability to deselect cells. How many times have you selected multiple cells in a worksheet, only to realise that you've accidentally included one or more cells you don't want? In the past you'd have had to reselect it all again from scratch. Now, however, you can hold down the Ctrl key and click to deselect any cells or ranges of cells within an existing selection. It sounds boring, but it's actually a big time saver.
Excel 2019 introduces a selection of new functions, most useful of which are MAXIFS and MINIFS, which return the largest or smallest value in a range, respectively. Also included are two new types of chart; map charts - for displaying different values across different territories, for example - and funnel charts, which display values at different stages of a process.
What are the alternatives?
Map and funnel charts might be new to Excel, but they're a good example of Microsoft playing catch-up - Google Sheets has offered the ability to create charts like these for some time now, while both Sheets and LibreOffice's Calc let you deselect cells by Ctrl-clicking them.
Outlook 2019
Outlook is Office's email, calendar, and contacts application. It doesn't come with Office Home & Student 2019, so you'll only get it if you buy Office Home & Business 2019 - or subscribe to Office 365 instead.
What's new?
Like Word and Excel, many of the new features, such as scheduling meetings across multiple time zones in your calendar, are business orientated. Outlook also gets Word's new Read Aloud feature, allowing you to listen to your emails as spoken text. And there are a handful of other useful changes, including the option to mark all emails as read on deleting them, to prevent your Deleted folder reporting dozens of unread messages.
Click the Show Focused Inbox button to split your inbox into two sections: Focused and Other
Perhaps the most interesting improvement to Outlook 2019 is the Focused Inbox. Users of Outlook.com may be familiar with the concept of Focused Inbox, as Microsoft introduced it to its webmail service a couple of years ago. Focussed Inbox splits your inbox into two views - one for emails that matter (Focused) and a second (Other) for less important messages, such as newsletters and mailouts. It's a great way to streamline your inbox.
Annoyingly, however, Focused Inbox is only available for Microsoft email accounts, such as Outlook.com/Hotmail and Exchange. Currently, it doesn't work with any other type of account, such as Gmail, POP3 or IMAP.
What are the alternatives?
Free office suites seem to steer clear of email clients - you won't find one among LibreOffice's tools, for example. There are plenty of great free email clients available, though, such as emClient, which has an Outlook-like feel to and includes email, calendar and contacts - it's is free to use for up to two email accounts.
Gmail has a similar feature to Office 2019's Focused Inbox
If you're looking for an equivalent to Outlook 2019's new Focused Inbox feature, however, you'll need to look elsewhere. Windows 10's Mail app includes this feature but, as with Outlook, it's for Microsoft accounts only. If you're happy using webmail rather than an email client, then Gmail has been offering a Focused Inbox-like feature (which splits your inbox into Primary, Social and Promotions views) for years.
And the rest
Although PowerPoint is more of a business tool, it does have uses outside of the boardroom, such as for creating slideshows. PowerPoint 2019 now includes a new Morph transition, which provides an eye-catching animation between one slide and the next. It works well with slides that are similar but include small differences - images that are larger or in a different place, for example (view Microsoft's video for an example).
PowerPoint 2019 now lets you apply Morph transitions between similar slides
Other additions include ultra-high resolution 4K video, a Word-style text highlighter and a tool for automatically removing backgrounds from images in your slideshow.
All Office 2019 applications come with new themes, including a high-contrast Black theme, which can help people with reduced visibility, as well as other improved accessibility features. For example, under the Review tab, you'll find a new Check Accessibility tool. This scans your documents, spreadsheets and presentations for any aspects that may make them difficult to read or edit for people with disabilities.
Office 2019 includes a new tool that warns you if your documents may cause problems for people with disabilities
You can now also enable Office Sounds - improved audio cues that make Office programs easier to use if you have a visual impairment. Tick the 'Provide feedback with sound' option, under File, Options, 'Ease of Access'.
Should I upgrade or not?
There are many reasons why you would consider upgrading from an existing version of Office to Office 2019, but getting access to lots of exciting new features isn't going to be one of them. As you'll have already gathered, Office 2019 is an underwhelming update. It lacks any major changes, offering only minor improvements to some business features.
If you're coming from Office 2016 or even Office 2013, there isn't really enough here to warrant the upgrade. But even if you're looking to replace an outdated version of Office, we would suggest considering your alternatives very carefully. If you want to stick with Microsoft, then Office 365, with its built-in online storage and instant access to new features, may be a better bet.
On the other hand, if you just want a safe, easy-to-use set of office tools, then free alternatives, such Google's web apps or LibreOffice's traditional desktop suite, could well be all you need.
Should I get Office 2019 or 365?
It has the benefit of being a one-off purchase, but there's no escaping the fact that Office 2019 is beginning to look like a bit of a duff package compared to Office 365.
The cheapest edition, Office Home & Student 2019, comes with just three of the seven Office apps. But even if Word, Excel and PowerPoint are all you need, there are other drawbacks.
For instance, Office 2019 is a single-install product, meaning you can only install and run it on one PC. If you want to have access to your office tools on other devices, including phones and tablets, then you'll need Office 365. Office 2019 also has a built-in expiry date - its life-cycle doesn't end until 14 October 2025, but it won't receive any major feature updates in the meantime.
In contrast, Office 365 will continue to be supported ad infinitum and will gain all the latest features of future Office versions via updates. In fact, one reason Office 2019 feels so underwhelming is that many of its 'new' features have been available in Office 365 for ages.
Office 365 is far from perfect, though. Its biggest drawback is its ongoing cost. Office 365 Personal, which can only be used by one person, costs 60 per year. Office 365 Home, which can be used by up to six people, costs 80 per year. That's quite the commitment, but it's worth bearing in mind that those costs include all seven Office programs, along with 1TB of online storage and 60 minutes of Skype calls to landlines and mobiles a month, per user.
Are old versions of Office safe?
In a word: no. All of Microsoft's software products, including Office, have a set lifecycle, which is usually around ten years. Office 2007's lifecycle ended in October 2017, for example. Office 2010 is next to bite the dust - its lifecycle is set to end in October 2020.
When a lifecycle ends, Microsoft stops supplying the security fixes and patches that are vital for protecting against vulnerabilities that can be exploited by hackers and malware. And Microsoft's products are a big target for the hacking community. You can see a list of known vulnerabilities in unsupported versions of Office on CVE Details.
One solution might be to retire your copy of Office to an offline computer - cutting off the software from the internet will prevent online exploits, but will still leave you open to attack from any USB-borne threats. These days, though, there's no reason to risk using an out-of-date copy of Office. If you don't want to pay for a new version, LibreOffice and Google Docs are more than adequate replacements - they're both compatible with Office files and will continue to receive free updates.
Get the ITPro. daily newsletter
Receive our latest news, industry updates, featured resources and more. Sign up today to receive our FREE report on AI cyber crime & security - newly updated for 2023.