I went shopping at Amazon's till-less supermarket so that you don't have to
Are the Fresh automated stores another big-tech gimmick, or the future of grocery shopping?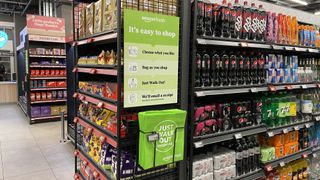 (Image credit: Sabina Weston/Dennis Publishing)
When I heard the news that Amazon had brought its till-less, cashless supermarket to London, I looked at my empty fridge and decided that it was a sign sent from the heavens, if not from Jeff Bezos himself.
A few moments later, I was greeted by a 300 ft long queue of potential Fresh customers who probably also decided to sneak out of work early to try to avoid the peak shopping hours. However, despite the length of the line being rather intimidating, it moved at a satisfactory pace and I was at the entrance in less than 10 minutes.
In the meantime, I managed to quiz the supermarket's employees about the details of my shopping trip. Yes, I had to download the Amazon app. No, I didn't have to keep my mobile data switched on. I was told that, after I finish shopping, I could just leave the store and the payment would take between four minutes to an hour to process, after which I would receive a receipt in my email inbox. The staff also reassured me that, although there wouldn't be any facial recognition involved, the store was powered by some "deep artificial intelligence".
By the time I was asked to wait for a red light at the door to turn green in order to be allowed in, the experience was already surreal enough. As I entered, I was asked to open the Amazon app on my phone, select the shopping cart, then the Fresh Code tab, and let the gate at the entry of the store scan the QR code displayed on my phone's screen. And then, it was all like any mid-sized supermarket in London, such as Tesco Metro or a smaller M&S. The interior was clean and well-lit, with an overall welcoming feeling to it. However, the pleasant first impression was very quickly shattered once you looked up: Above your head, the ceiling was swarmed with dozens of black, boxy apparati. Although they heavily resembled CCTV cameras, they were actually depth- and motion sensors, responsible for finding out what item you chose, how many pieces, for how much, and whether you decide to bag it and walk out with it, or maybe place it back on the shelf.
Feeling a bit overwhelmed by the sensation of being watched, I decided to focus on the fresh produce. The locally-sourced fruit and vegetables were the first section by the entrance, followed by World Foods and Meals For Tonight. Most ready-made dishes were priced at around £4.50 and could be combined with a vegetable side (normally around £1.50) to form a £5 meal deal. A perfect solution for the lockdown cooking fatigue, it was also more affordable than other competitors' dine-in deals, which usually hike up the price by forcing customers to purchase a dessert or beverage in order to redeem the offer.
The alcohol section, a cornered-off part of the supermarket behind the Kindles shelf, was a bit of a letdown. I was hoping to have my DNA scanned by some futuristic, age-verifying robot. Instead, I was asked for an ID by a shopping attendant. One evident upside to a lack of self-checkout tills is the refreshing experience of not being labelled as "Visibly Over 25" for once.
RELATED RESOURCE
Amazon: How to build a successful business
Sample our exclusive Business Briefing content
Another great feature of the store was that, instead of the usual wire mesh baskets, which are usually heavy, uncomfortable, and possibly a public health violation, the supermarket offered customers complimentary paper bags or a textile one for £1. In fact, customers are also allowed to place the items directly into their personal bags, which I found to be especially exhilarating – in any other place, placing an item directly from the shelf into your handbag would be clearly treated as shoplifting.
One irksome quality was that, although the Amazon Fresh supermarket was comfortably medium-sized, it was surprisingly lacking in the variety of products. Yes, I did find plenty of Amazon-branded ready-made or partially-prepared meals and the fruit and veg section was quite impressive. There was even a takeaway coffee section with two self-service machines. Nonetheless, I noticed a deficiency in basic ingredients, such as tomato passata or clotted cream. A lot of the basics, such as kitchen towels or salt, were only available in one type and had been supplied by Morrisons, which, conveniently, has a supermarket on the other side of The Broadway. This made me realise that, if I really wanted to do a week's worth of grocery shopping instead of just reviewing the latest technology, I would have probably opted for Morrisons.
That being said, I really didn't want to leave: I felt completely sucked into this strange, sci-fi reality with Amazon-branded mash and creepy motion sensors – in fact, after around 20 minutes inside, I had almost forgotten about their existence. That is why, when it was time to say goodbye, it felt weird to just … walk out. Without paying, without bantering with the cashier, without the awkward-yet-friendly "thank you, hope you have a nice day". I stood outside the supermarket and checked my banking app. Nothing had been taken off my balance, which I found slightly disappointing. It seemed as if this shopping trip wasn't real, that it was only some weird game. At this point, I was half-expecting Andy Jassy to walk out from the neighbouring Itsu and announce to everyone that this was all just a prank or some kind of social experiment.
However, the staff I had been talking to were right and the amount was deducted from my account by the time I got home an hour later. It was lower than I expected, but I checked the 'Order details' in the Amazon app and everything was correct, down to the 98p Amazon-branded brownie bar. Reassuringly, it hadn't mistakenly billed me for the Echo Dot that I picked up and then placed back onto the shelf. However, I noticed that at the very top of my "order summary", Amazon had included a line reading: "Your trip time was 45m 46s". This definitely brought back the uneasy feeling of being watched and scrutinised.
Overall, it was an enjoyable experience, but one that I'm unlikely to revisit again. For one thing, I know better than to commute from Highbury to Ealing for my groceries. However, if Amazon decided to open a Fresh supermarket in my area, I would probably have to think long and hard about whether I would trade in my local off-license, or even the Finsbury Park Lidl, for a bunch of black boxes over my head. Although who knows, I might reconsider my stance once I taste Amazon's take on mashed potatoes.
Get the ITPro. daily newsletter
Receive our latest news, industry updates, featured resources and more. Sign up today to receive our FREE report on AI cyber crime & security - newly updated for 2023.
Having only graduated from City University in 2019, Sabina has already demonstrated her abilities as a keen writer and effective journalist. Currently a content writer for Drapers, Sabina spent a number of years writing for ITPro, specialising in networking and telecommunications, as well as charting the efforts of technology companies to improve their inclusion and diversity strategies, a topic close to her heart.
Sabina has also held a number of editorial roles at Harper's Bazaar, Cube Collective, and HighClouds.