Google extends remote working and plans a flexible workweek
Google's return to the office delayed for the second time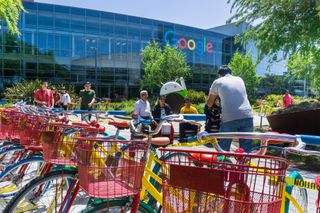 (Image credit: Shutterstock)
Google will put off bringing employees back into the office until September 2021. And when they return, they'll be on a flexible workweek, According to a New York Times report.
In a Sunday night email to employees, Sundar Pichai, CEO of Google's parent company, Alphabet, said employees will come to the office three days a week under the pilot plan. Google will label these in-office workdays "collaboration days." They'll work the rest of the week from home.
"We are testing a hypothesis that a flexible work model will lead to greater productivity, collaboration, and well-being," said Pichai in the email. "No company at our scale has ever created a fully hybrid work force model — though a few are starting to test it — so it will be interesting to try."
When the coronavirus struck earlier this year, Google asked its employees to work from home. Google originally planned to have employees return to the office in January 2021, but it later pushed that back to July. Now, the delay is even longer and now includes the aforementioned flexible workweek.
Google will also change workplace layouts to reduce the risk of infection when workers return, including the option to book collaborative workspaces inside the office and safe spaces outside to meet. Google will also offer reservable desks in offices for employees looking for a quiet space to work outside the home.
The company will also create presentation booths for employees to take home and use for professional-looking broadcasts at home.
In an audio presentation leaked to Business Insider in October, Pichai said Google was looking to increase its number of office "hubs" and was exploring how that might work with "hybrid-flexible work."
Last month, ITPro reported that IBM's former CEO Ginni Rometty didn't see remote working and digital transformation plans returning to normal following the COVID-19 vaccine. According to Rometty, remote work was "here to stay" as part of a hybrid-working model.
However, Microsoft CEO Satya Nadella warned that switching fully to remote working could negatively affect well-being, learning, and collaboration — despite Microsoft ushering in more varied remote working policies.
A daily dose of IT news, reviews, features and insights, straight to your inbox!
Rene Millman is a freelance writer and broadcaster who covers cybersecurity, AI, IoT, and the cloud. He also works as a contributing analyst at GigaOm and has previously worked as an analyst for Gartner covering the infrastructure market. He has made numerous television appearances to give his views and expertise on technology trends and companies that affect and shape our lives. You can follow Rene Millman on Twitter.
A daily dose of IT news, reviews, features and insights, straight to your inbox!
Thank you for signing up to ITPro. You will receive a verification email shortly.
There was a problem. Please refresh the page and try again.