How technology is changing the role of the manager
A changing tech landscape will require managers to keep on top of not only their team's skills and training, but their own, too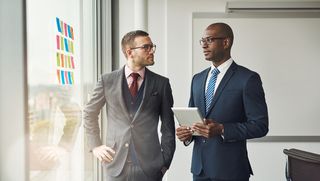 (Image credit: Bigstock)
AI and automation technologies are rapidly changing the workplace, with Gartner predicting that by 2024 they'll be capable of taking on almost 69% of a manager's current workload.
Emerging technologies such as virtual personal assistants (VPAs), chatbots and robotic process automation (RPA) are lightening the load of some managers by automating many of their administrative tasks, freeing them up to focus more on organisational strategy and direction. But how much a manager's role will really change over the next four years depends on their employer and the industry they work in.
How much could management roles change?
"There's going to be a lot of variety in how roles change depending on the context," says Helen Poitevin, research vice president at Gartner. "Take for example the management of knowledge workers. There you'll see an increased amount of automation of administrative tasks – such as tracking project completion, signing of holiday requests and things around performance feedback – freeing up managers from an administrative overload."
"I think it's going to vary across different sectors," BCS future tech expert Chris Yapp, tells IT Pro. He believes the speed at which a management role changes depends on what the work entails and how specific the tasks are.
"Some sectors it may well hit in the next two or three years, but there are others where it may be 10-15 years," he says. "In healthcare and construction we're seeing very clear examples of how AI and automation can improve productivity, but there are other areas where the tasks are less structured and defined, raising issues. Questions being asked include 'do we actually agree what the problem is that can be solved by AI?', 'does AI make it cheaper, faster, more consistent?' and 'does it provide me with the explanations I need to do my job?'."
What might the role of a manager look like in 2024?
By 2024 Jane Dickinson, digital skills lead at The Open University, expects technology to feature more prominently in a typical manager's day than it does currently.
"For example, where team leaders have previously relied on specialist digital skills to be offered by one or two individuals, by 2024 the typical managers' skill set will incorporate these specialisms. The focus will be on embedding and applying new technologies and ensuring their workforce has the requisite skills to embrace them efficiently. Those who fail to do so risk being left behind in this time of rapid digital change."
The major change managers will need to get used to, adds William Harris, director at ISG, is "not just having humans in their teams, but silicon workers too". He points out that automation can be a silent support in the background, but orchestrating the digital/silicon team is becoming part of daily life for leaders. "While 'robots' are bits of software, and therefore often claimed by IT as part of their remit, the reality is if a leader is using digital workers as part of their team, they are their team member – and their output is that leader's responsibility," he says. "Managers must become more tech-savvy and accept the fundamental shift from managing people to orchestrating a hybrid workforce."
"There won't be a significant step-change in how we work by 2024," Harris continues, "the role of the team leader will be pretty similar to how it is now: morning briefings with the team, ensuring everyone is on task to complete the required work, considering the daily operational challenges of who is off ill, on holiday etc. They would then look at the automation dashboard to ascertain the level of digital effort available that day and what work is due to be completed.
At the executive level, however, things may be different. According to Harris, an understanding of information security and cybersecurity more generally will be imperative for them, as will staying up to date with the latest advances in technology and how this can help their business.
BCS' Yapp advises that rather than concentrating on individual managers, businesses should instead focus on management teams; see how things may be structured in the coming years and look at the skills that are needed.
"I've seen it over 30 odd years in the industry; companies bring in one or two people as part of culture change programmes to help people adapt. Instead, you should focus on getting all the managers together and training them in the necessary skill sets so that management can be more effective collectively," he notes.
Challenges to consider
One of the biggest risks with freeing up management to focus on more strategic projects is that a bad manager will have much more of a negative impact on an organisation, Gartner's Poitevin notes, again highlighting the importance of ensuring management has the right skills.
"The criticality of having a strong skill set and leadership development will increase as the scope and impact of individual managers grows," she says. "It's becoming more important to provide robust leadership development; put in place better selection, coaching and support of managers, and create an ecosystem to support the next generation of managers coming through the business."
But it's not just management we need to consider. As many 'people processes' become automated, the less managers may be actively involved in the coaching and development of their teams. Teams that, according to Poitevin, are likely to grow in size.
But in order for the number of reports to go up, she says, businesses need to put into place programmes that connect staff with coaches or mentors to help them grow and develop.
"I'm a firm believer that your best mentor or coach isn't necessarily your manager," she says. "They don't need to be responsible for professional development, instead businesses should set up some kind of network that gives people the opportunity to connect and get guidance. This way you can definitely have a much higher manager to employee ratio in many organisations. Not in all; but in general we'll see the number of reports go up."
The rate of change may vary dramatically, but it cannot be avoided completely. Managers will doubtless be happy to hear they're likely to be freed from some of the more mundane tasks they currently undertake, but different challenges will be taking their place. Whether their roles are likely to be affected in the next few years or not, for the next decade it's important that individuals and businesses alike start considering what's to come and how they should prepare.
Get the ITPro. daily newsletter
Receive our latest news, industry updates, featured resources and more. Sign up today to receive our FREE report on AI cyber crime & security - newly updated for 2023.
Keri Allan is a freelancer with 20 years of experience writing about technology and has written for publications including the Guardian, the Sunday Times, CIO, E&T and Arabian Computer News. She specialises in areas including the cloud, IoT, AI, machine learning and digital transformation.