Amazon to create 10,000 new UK jobs
Corporate roles will be available across the country in software development, cloud computing, and AI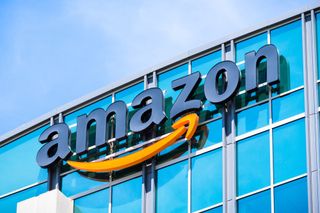 (Image credit: Shutterstock)
Amazon is creating over 10,000 new jobs in 2021, taking its total UK workforce to over 55,000 by the end of the year.
The new jobs include roles at its corporate offices in London, Manchester, Edinburgh, and Cambridge, as well as engineering, software development, cloud computing, AI and machine learning roles.
In operations, the company will open a parcel receive centre and four new fulfilment centres, as well as continuing to expand its delivery station network. This is set to create thousands of new roles on teams working in engineering, HR and IT, finance and those that pick, pack, and ship customer orders.
One of the fulfilment centres will open in Hinckley, East Midlands, this summer and create 700 jobs, while the other three centres will open in Dartford, Gateshead, and Swindon later in the year, creating 1,300 jobs.
Amazon also announced it will invest £10 million over three years to train up to 5,000 employees in new skills and support government investment through its Career Choice programme.
"Amazon's announcement today is fantastic news and a huge vote of confidence in the British economy, helping us deliver on our commitment to level up across the UK with a whopping 10,000 new permanent jobs," said business secretary Kwasi Kwarteng. "As we build back better from the pandemic, this is a prime investment in our retail sector."
RELATED RESOURCE
The impact of AWS in the UK
How AWS is powering Britain's fastest-growing companies
BT also announced this week plans to create 7,000 additional jobs following its decision to increase its full-fibre target from 20 million to 25 million premises by December 2026. The jobs include direct and contracted positions in planning and field-based coordinating, civil engineering and fibre, and the maintenance and installation of networks.
Earlier this month, India-based companies Infosys and HCL Technologies announced the creation of 2,000 new digital jobs in the UK as part of government efforts to create a stronger UK-India relationship. This came as part of an "Enhanced Trade Partnership" which will see over £533 million of new Indian investment in the UK, with other tech companies like MPhasis and Wipro creating jobs too.
A daily dose of IT news, reviews, features and insights, straight to your inbox!
Zach Marzouk is a staff writer for IT Pro, Cloud Pro, and Channel Pro where he writes news articles and in-depth feature pieces primarily focused on Asia Pacific and the US. Aside from covering topics like security, privacy, worker rights, and startups, he also contributes to the IT Pro podcast and IT Pro 20/20.
After studying an undergraduate degree in Arabic and Spanish at the University of Leeds, Zach completed a journalism internship at The Argentina Independent in Buenos Aires where he wrote about the country's history, politics, and technology.
He then joined IT Pro in 2017 where he was introduced to the world of B2B technology as a junior staff writer, before he returned to Argentina in 2018, working in communications and as a copywriter. In 2021, he made his way back to IT Pro as a staff writer during the pandemic.
Contact him at zach.marzouk@futurenet.com or find Zach's thoughts (and more) on Twitter @ZachMarzouk
A daily dose of IT news, reviews, features and insights, straight to your inbox!
Thank you for signing up to ITPro. You will receive a verification email shortly.
There was a problem. Please refresh the page and try again.