Will Elizabeth Warren Break Up Big Tech?
The Democratic Party hopeful has taken aim at the giants of the tech industry, but what does this mean in practice?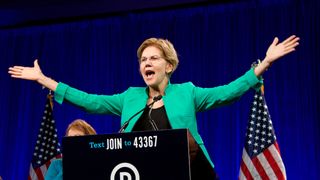 Of all the politicians stalking the hustings in the run up to the US 2020 election, Elizabeth Warren is felt to be the most dangerous for big tech. Facebook CEO Mark Zuckerberg, in audio leaked to the Verge, was adamant that if Warren is elected president the social media giant would "go to the mat and fight". The Democrat senator for Massachusetts wants to hold some of America's largest tech companies to account for what she says are anti-competitive practices. What practices is she concerned about, and what will she do to the tech industry if elected this November?
Big tech monopolies have been a concern of Warren's for several years. She began targeting them as part of a general antitrust focus in a 2016 speech at a forum held by New America, a think tank that focuses on public policy issues.
She called for more regulation at the time, stating: "The FCC and FTC both have a role to play in making sure that small, innovative tech companies can develop newer and better ways for us to connect with each other without being crushed by the big guys."
In March 2019, Warren's stance against big tech companies had grown more aggressive. She rolled out her plans to constrain them in a Medium post entitled "Here's how we can break up big tech".
The reason? They just have too much power, according to the post (now replicated on her site). She indirectly cites a survey from eMarketer that claimed over half the world's ecommerce goes through Amazon (the next biggest ecommerce player was eBay, with 6.6% of market revenues).
If you're an independent retailer, you have to sell on the platform to target a growing base of Amazon shoppers. That not only potentially gives Amazon a cut of your profits, but it also gives it access to at least some of your operational data.
She also points to a study in 2017 by programmer André Staltz, which claims that 70% of mobile traffic goes through Google and Facebook. That resonates with Pew Research statistics suggesting that nearly one adult in seven in the US uses Facebook.
These large companies squash competition by either buying it (as Facebook did with its $19 billion WhatsApp purchase in 2014), or using their own online platforms to give themselves an advantage over the competition, says the Warren campaign. It gives as an example Amazon selling branded goods that compete with vendors on its own marketplace, adding that the company can use its own search engine to its advantage by promoting its cheap own-brand AmazonBasics alternatives over its own merchant partners' products.
Breakup plans
Warren plans two things to fix the problem. First, she would give a new designation to large companies that offer an online marketplace, an exchange, or a platform for connecting third parties: platform utilities. This means if they provide a powerful enough service, it must be regulated for the public good, a little like phone carriers or electricity companies.
Platform utilities with an annual global revenue of $25 billion or more would not be able to own both the network and participate in the buying and selling that takes place on it. Neither would they be able to share the massive amounts of data they gleaned from that network to third parties.
Smaller companies with revenues of between $90m and $25bn could own and operate their networks but like their larger counterparts would still have to abide by "fair, reasonable, and nondiscriminatory dealing" standards.
What that means exactly isn't yet clear but it suggests Warren expects a level of transparency for traditionally opaque models around things like search results and AI-based recommendations from these platforms. For example, the Pew study found that 53% of Americans don't understand how Facebook chooses stories to display on their personal news feeds.
State regulators or district attorneys could sue companies for 5% of global revenue if they violate these rules, exceeding even Europe's strict GDPR penalties, so Warren's law would have some bite.
In practice, this means that Amazon's Marketplace service (which is its platform for retailers) would have to be broken into a separate operation, while its AmazonBasics brand of cheap goods would also be carved off, Warren says. On Google's side, its advertising networks, which help third-party advertisers track you around the web, and its AdMob and AdSense operations that sell advertising based on search results, would have to be split off from the main company, as would its search business.
The other part of Warren's plan involves breaking up mergers that she sees as anti-competitive. These include not only DoubleClick (now Google Ad Manager), a subsidiary Google hoovered up in 2007 that helps advertisers track you around the web, but also its Nest IoT and Waze mapping companies. Amazon would have to slice off grocery store Whole Foods and Zappos shoes. And Facebook would have to send goodbye messages to WhatsApp and Instagram.
The latter might explain why Facebook has moved to tie together the underlying infrastructure of WhatsApp, Instagram, and Facebook Messenger in a move that would make it hard to unpick the companies.
Warren's Medium post didn't directly mention Apple but it's definitely on her radar, she has said, explaining that it wouldn't be able to both run its app store and participate in it. She called out the company in her 2016 speech, arguing: "While Apple Music is easily accessible on the iPhone, Apple has placed conditions on its rivals that make it difficult for them to offer competitive streaming services." Since these statements, Apple has amped up its vertical integration, selling its own shows alongside others through its Apple TV+ service. However, things are less clear for Netflix, which is seeing more competition, not less, from others like Apple TV+, and which doesn't sell advertising on its network.
A viable plan?
How will this all play out? It's important to remember that Warren's break-up plans don't exist in a vacuum. History has proven large companies vulnerable to breakups before. In 1982, the US broke up AT&T's "Ma Bell" collection of regional communications carriers into a collection of independent regional operating companies, leaving AT&T the long-distance business. 70 years prior, the US broke up Standard Oil, which had monopolised the oil business. If data is the new oil, then are these big tech companies the new Standard Oil?
Federal and state lawmakers are also exploring potential antitrust activities among the big tech companies. The Department of Justice announced an inquiry into the practices of "market-leading online platforms" in July 2019, while New York Attorney General Letitia James announced an antitrust investigation into Facebook in September that expanded to include the AGs of 47 states within a month.
Tech companies are right to be scared of Warren. As one of four front-runner candidates for the Democratic nomination, she represents a clear and present danger to entrenched tech industry practices, and with months still left until the Democratic National Convention where the party will choose one of them, there's everything still to play for
Get the ITPro. daily newsletter
Receive our latest news, industry updates, featured resources and more. Sign up today to receive our FREE report on AI cyber crime & security - newly updated for 2023.
Danny Bradbury has been a print journalist specialising in technology since 1989 and a freelance writer since 1994. He has written for national publications on both sides of the Atlantic and has won awards for his investigative cybersecurity journalism work and his arts and culture writing.
Danny writes about many different technology issues for audiences ranging from consumers through to software developers and CIOs. He also ghostwrites articles for many C-suite business executives in the technology sector and has worked as a presenter for multiple webinars and podcasts.