Big Five lose over $320 billion in Monday's market plunge
A difficult start to the week for Apple, Microsoft, Facebook, Google, and Amazon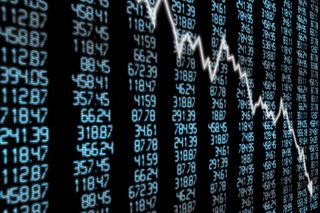 The five most valuable tech companies in the US - Apple, Microsoft, Facebook, Google, and Amazon - lost $321.6 billion in value between them on Monday, in what was reportedly the worst day for stocks since the 2008 financial crisis.
Apple's losses contributed to almost one-third of the total, its shares plunging 7.9% and losing $100 billion in value. Microsoft, Facebook, and Google-owning Alphabet fell by 6%, with Amazon trailing behind with a loss of 5.3%.
Forbes reported that, by the end of trading on Monday, Dow Jones had lost 7.8% and the S&P 500 lost 7.6%.
None of the tech sector businesses listed in the S&P 500 index closed the day with their value up.
Some of the other biggest losses among tech companies were among IT service provider DXC, which plummeted 18%, as well as hard disk drive manufacturer and data storage provider Western Digital, with a 13% drop.
Tesla, which is not listed in the S&P 500, took another hard loss at 14%. Last month, the company's stock fell by 17%, following VP Tao Lin's announcement that the coronavirus outbreak in China would delay deliveries of its Model 3 cars.
So far, the impact of the coronavirus on the tech industry was mostly felt by closed factories and cancelled events.
Last week, Slack, Facebook, and Microsoft advised their employees to work remotely following the spread of the coronavirus to the west coast of the United States, while Google sent home most of its 8,000 staff in Dublin after an employee showed flu-like symptoms.
Amazon also announced that an employee in one of its Seattle offices tested positive for COVID-19, while at Microsoft said that two of its members of staff are affected. The virus has spread to 97 countries, infecting over 109,000 people globally and killed more than 3,800 so far.
A daily dose of IT news, reviews, features and insights, straight to your inbox!
A daily dose of IT news, reviews, features and insights, straight to your inbox!
Thank you for signing up to ITPro. You will receive a verification email shortly.
There was a problem. Please refresh the page and try again.