CoronaCoin cryptocurrency allows traders to bet on coronavirus deaths
The cryptocurrency has been slammed as an immoral attempt at monetising the coronavirus outbreak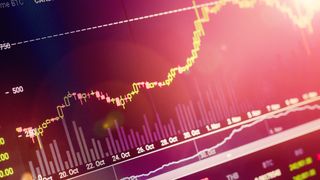 (Image credit: Shutterstock)
A new cryptocurrency is gaining momentum by giving its traders the morbid opportunity to bank on how many people fall ill or die from the coronavirus.
'CoronaCoin' might sound like something straight out of a technology-centric horror movie or an episode of Black Mirror, but it's reportedly a thriving cryptocurrency available on online exchanges such as Saturn.Network.
The cryptocurrency's supply is based on the world population and its tokens are said to be diminished every 48 hours, updating its worth based on the rate of new cases.
According to the latest information from the World Health Organisation (WHO), the coronavirus, also known as the COVID-19, has infected over 87,000 people worldwide. Over the weekend, five more WHO-member countries had reported its first cases: Azerbaijan, Ecuador, Ireland, Monaco and Qatar.
The death toll is estimated to be just under 3,000, out of which 104 deaths were outside of the epicentre of the virus, China. This has prompted WHO to raise the coronavirus' global spread and impact alert to "very high".
A user who identified himself as one of the developers, Sunny Kemp, told Reuters that "some people speculate a large portion of the supply will be burned due to the spread of the virus, so they invest".
Speaking via chat on messaging app Telegram, Kemp claims that seven developers are involved, but more would be joining soon. Although he refused to identify them, he told Reuters that the cryptocurrency's developers were based mostly in Europe.
CoronaCoin has been deemed by Twitter and Reddit users as an immoral attempt at monetising the coronavirus outbreak, with complete disregard for its victims. Nonetheless, Kemp also claimed that around 20% of the supply will be allocated for a monthly donation to the Red Cross, with the assistance of a well-known cryptocurrency payments processor.
Coronavirus concerns have negatively impacted quarterly revenues for numerous tech giants and continued to blight high-profile tech events, following the cancellations of MWC and the Facebook F8 conference.
A daily dose of IT news, reviews, features and insights, straight to your inbox!
A daily dose of IT news, reviews, features and insights, straight to your inbox!
Thank you for signing up to ITPro. You will receive a verification email shortly.
There was a problem. Please refresh the page and try again.