CIO Series - Jeremy Vincent, Jaguar Land Rover
As part of our CIO series, Jeremy Vincent, CIO of Jaguar Land Rover describes how he's become a fan of cloud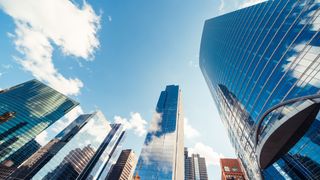 Describe your role in three words.
Leadership and driving change
How did you get to where you are today?
I was an engineering officer in the Navy. I have degrees in mechanical and electrical engineering, I then went on to do an MBA. I started out as an operations manager in production for various companies until eventually reaching a board level position.
What's the biggest challenge of being a modern-day CIO/CEO?
There are two challenges. One is to continually demonstrate to business leaders that I'm more than just head of IT. Many of my peers still have a old-fashioned view of what the role entails. I see my job as understanding goals and objectives and how technology can solve these business issues.
The second part of the role is managing the performance of people. There's a dearth of high-quality, business-savvy IT people and a dearth of IT-savvy business people. As globalisation continues apace, we're doing more complex things and, at the same time, we're no longer competing with traditional competitors – just take a look at how India and China are progressing. Times are changing and we have to think longer term and think globally. At the same time, we have to think quicker and become more savvy.
Increasingly, I find, it's the second part of the role that dominates. From my point of view, I hope that I can influence and change the perception of what a modern CIO is. We're moving away from an old-fashioned view of a CIO – that of someone who deploys technology
I think it's always been the case that the primary role of a CIO has always been seen as that of an IT person, someone there to deploy technologies but less capable of meeting the business challenges. I'd like to show that CIOs are more than capable of meeting these challenges. That fits in with changes in technolog, which is much more plug-and-play these days. Previously, we required more customisation and skill.
That's influenced the way we work too. Look at the rise in 3G signal strength – that's why a lot of us work remotely from iPhones and iPads.
What's the most rewarding part of your job?
Having a voice at the board table - being seen as a senior executive managing the business. That means that I can contribute at other levels as well as technology - areas such as financial strategy, and business strategy for example. To give one instance, one of my suggestions that was taken up by the company was adaptive cruise control for our vehicles. That was my suggestion and ultimately I'll have a patent in my name for the technology. That's something that's important to me.
How big a role will cloud computing play in your organisation in the next three years? What other technologies are you watching?
It's already playing a big role. We replaced Exhange with Google Apps - a true cloud solution and have demonstrated serious costs savings. We have another cloud solution – from Cornerstone, which we have branded Catalyst – that looks after employee performance management. On top of that we have deployed a global CRM solution – based on Applicore technology
We're also doing something pretty radical with security and SSO. We're doing a lot of stuff with vehicle telematics, a solution that observes vehicle dynamics in real time and diagnose problems.
We're looking to use cloud in other ways too. For example, as a way to reduce desktop costs we're looking to use iPads so, rather than supply everyone with laptops, we can use an iPad based client emulation that allows me to replicate a secure tunnel. But we're also looking for a way for employees to bring in their own devices - Google doesn't care how their services are accessed.
What's your biggest success and your worst mistake?
I joined the company in 2008 when the sale of Jaguar and Land Rover to Tata was going ahead. We had extract all the operating pieces from Ford and establish them with the Tata infrastructure
The process cost £200m and took two years – imagine what a large corporate needs All the licence, service contracts, all the back end, all the infrastructure – had to recreate the whole environment.
The worst mistake? I took a decision to migrate from Exhange to Google Apps 17k employees' mail from MS to Google App. We had three months of niggles – I could have done a better job so the migration wasn't disruptive. I didn't run a pilot extensive enough. We could have done more technical testing. We could have done more functional testing but, in my defence, we were in the middle of the separation process I mentioned above - that limited us.
What's the most important criterion you use to make decisions that impact your business and why?
Business value – to what extent can I measure the impact on business? How will it add value? Will it remove fixed costs, or will it improve products, will it allow us to sell more vehicles? These are all factors to consider.
We spoke to Jeremy Vincent ahead of the CIO Summit in Berlin, where he was one of the delegates.
Stay up to date with the latest news and analysis from the world of cloud computing with our twice-weekly newsletter
ITPro is a global business technology website providing the latest news, analysis, and business insight for IT decision-makers. Whether it's cyber security, cloud computing, IT infrastructure, or business strategy, we aim to equip leaders with the data they need to make informed IT investments.
For regular updates delivered to your inbox and social feeds, be sure to sign up to our daily newsletter and follow on us LinkedIn and Twitter.