The best alternatives to VC funding for startup businesses
VC funding has traditionally been a source of money for tech startups, but what other options are available?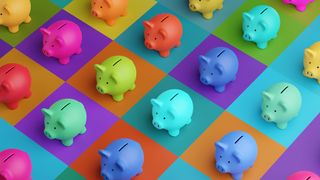 (Image credit: Getty Images)
Venture capital (VC) funding has become one of the main drivers of the tech economy. However, new startups are exploring alternative funding options, as these may be more appropriate or offer greater flexibility that business founders are looking for.
When they start investigating, however, business owners can feel overwhelmed by the sheer variety of what's on offer. It's essential, therefore, that founders arm themselves with as much information as possible.
"When exploring alternative funding options, it's important to have a strong understanding of what's available," says Jessica Bonner, head of origination at Capita Scaling Partners (CSP). "Whether it's debt funding, grants, crowdfunding, revenue-based financing or others, each option carries its own benefits, risks, and criteria. It's therefore crucial to determine the type of funding that best suits specific circumstances and aligns with long term plans."
Types of alternatives to VC funding for startups
While not an exhaustive list, these are some of the main alternative funding options that startups searching for additional sources of finance other than venture capital should consider.
Government funding and grants
Central and local governments have offered startup businesses loans and grants for decades, although they often target a specific business process, such as research and developing a new product. Innovation grants are also available, as well as R&D Tax Credits, Patent Box and Creative Industries tax relief. For those aged 18-30, the Prince's Trust Enterprise Programme is also an option and has supported thousands of young entrepreneurs.
The Seed Enterprise Investment Scheme (SEIS) and the Enterprise Investment Scheme (EIS) are closely linked to VC funding but could offer the funding level a new startup business is looking for. Detailed information is available on the Gov.uk website.
Bootstrapping
Self-funding your new startup business should always be considered first. Using your own financial resources will give you ultimate control over how the money is spent and the level of reporting that needs to be completed. Using family and friends should also be explored, as they can often be an untapped source of support for new businesses.
Angel investors
Wealthy people who want to support new businesses often invest significantly in high-risk companies. These early-stage investments are risky, but they can deliver potentially massive rewards to the angel investor. For your business, angel investors tend to be less stringent with their requirements than a VC, but may want more hands-on, day-to-day influence over your company. Locating an angel investor can take time. One of the most effective routes is to use one of the many angel investor networks.
Crowdfunding
One of the most active funding channels is crowdfunding. If your business has an innovative new product, asking potential customers to support its development for rewards – often significant discounts on the final price of the product – could help bring your idea to market, as it has thousands of other new products. Among the best known crowdfunding platforms are Kickstarter and Indiegogo, which are reward-based systems. An alternative is equity-based systems that offer a stake in your new business such as Crowdcube and Seedrs.
Be prepared to make what could be a significant investment in the explainer video; you will need to communicate information about your new product to entice backers to make a pledge.
RELATED RESOURCE
Developing an end-to-end process for virtual photography
Learn how to build workflows to create digital 3D content for multiple channels
Incubators and accelerators
Many of the most well-known tech companies were funded by incubators. These differ from venture capital as they usually only invest in a limited number of companies yearly. This means they can become highly competitive, but if you're accepted expertise and mentoring are often also included. If your business needs more than money to start, these funding options, which include the likes of Entrepreneur First and Active Capitals among others, could be for you.
Debt financing
Borrowing the money you need to start your business can be approached in several ways: Startup business loans are always available from the leading banks and the British Business Bank for up to £25,000. You will need a detailed cash flow forecast and a detailed business plan, especially when approaching the big four retail banks. Peer-to-Peer lending could also be an option. Individuals back the businesses they like the look of by lending small amounts along with what could be many other lenders. You will sometimes hear these schemes described as debt crowdfunding. Platforms include Funding Circle and Crowdstacker.
Invoice financing
This method of financing uses the outstanding invoices your new business has to release the money needed to expand. The financing company pays the invoice value, which can give you the required cash. The improvement in cashflow could provide your business with the financial resources it needs. The low cost of these schemes has made them very popular. Options include The British Business Bank and SME Invoice Financing.
Understanding potential VC funding alternatives for startups
The funding landscape has many options to choose from. Sophie Lonergan, head of startup investment at Digital Catapult, advises that founders should fully understand each funding type and what the lenders' expectations will be.
"Every funding option comes with its own set of pros and cons, but in general founders should look out for two key components of any funding option: control terms and economic terms. The former refers to what, if any, control a business or lender has over the company they've invested in, which a founder should consider carefully and assess on an individual basis," Lonergan explains. "Economic terms refer to the financial implications of an agreement, and founders should make sure they understand what, if any, repayment or interest might be required as well as any other financial implications."
"Startup founders should always seek their own legal advice before agreeing to any new funding options, and establishing a network with other founders can be a great way to share ideas and experiences," she adds.
With so many alternative funding options available, it's vital to understand how each one differs. Looking closely at what your business needs the money for will direct you to which funding options may be more appropriate than venture capital. Drawing up a shortlist for further research is always a good first step and always seek advice if unsure which option to choose and look closely at the costs.
Get the ITPro. daily newsletter
Receive our latest news, industry updates, featured resources and more. Sign up today to receive our FREE report on AI cyber crime & security - newly updated for 2023.
David Howell is a freelance writer, journalist, broadcaster and content creator helping enterprises communicate.
Focussing on business and technology, he has a particular interest in how enterprises are using technology to connect with their customers using AI, VR and mobile innovation.
His work over the past 30 years has appeared in the national press and a diverse range of business and technology publications. You can follow David on LinkedIn.
Get the ITPro. daily newsletter
Receive our latest news, industry updates, featured resources and more. Sign up today to receive our FREE report on AI cyber crime & security - newly updated for 2023.
Thank you for signing up to ITPro.. You will receive a verification email shortly.
There was a problem. Please refresh the page and try again.