UK tech still a funding hotspot despite declining international investment
The impact of Brexit was highlighted as a key factor in the declining volume of tech project investment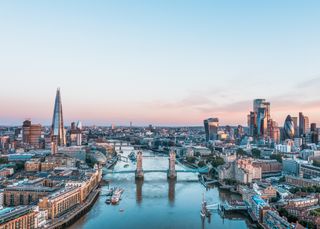 (Image credit: Karl Hendon/Getty Images)
The UK still remains an attractive proposition for foreign direct investment (FDI) despite the volume of investment in UK tech projects decreasing by nearly one-quarter last year, according to EY.
Figures from EY found that the UK tech sector experienced a 23.3% decline in FDI over the year from 305 in 2021 to 234 in 2022, but remains the second-most attractive investment nation in the continent.
The findings were taken from the Big Four consultancy house's annual Attractiveness Survey, which examines business investment in the UK.
Britain's share of overall European FDI in tech projects also declined significantly, the study found. Last year, Britain's share fell to 19.8% from 29.2% in 2021.
EY attributed this two-pronged decrease to sluggish economic conditions and the impact of Brexit on the UK economy.
"Political uncertainty and the ongoing impact of Brexit on trade and investment will likely have played a part in the UK's performance – but Europe-wide factors, such as high energy prices and high inflation, will have had an impact on the UK's attractiveness too," EY said in a statement.
RELATED RESOURCE
Making the switch
Realise the benefits of IP technology ahead of the digital 'switch-on'
This declining flow of FDI in UK-based tech projects comes at a time of heightened strain on the country's tech sector, which has recorded a marked dip in venture capital investment due to slowing economic conditions.
Research from KPMG's Venture Pulse survey found that a total of £2.9 billion ($3.6 billion) was raised by UK firms in the opening three months of the year.
This quarterly funding volume marks the lowest raised by UK firms in a single quarter since 2020.
The decrease is also "significantly down" on the record £12.3 billion ($15.2 billion) raised in Q1 2022.
How UK tech project investment compares to Europe
Despite this decline, EY's survey revealed that the UK still remains a highly attractive proposition for investors.
France held the top spot for the total number of projects for a fourth consecutive year.
EY said the UK "once again ranked highest" in Europe for new projects and continued to deliver more total jobs and jobs per project than France and Germany.
"For projects where expected job totals were reported, the UK led Europe on total jobs (47,000), ahead of Spain (39,000) and France (38,000)," EY said.
"For the third year running, the UK (59) outperformed Germany (58) and France (33) on jobs per project. The UK also has a clear lead on large employment projects, with 103 projects that were expected to create over 100 jobs – a figure that falls to 89 projects in France, 62 in Spain and 48 in Germany."
The consultancy firm said this is "consistent with the UK's pivot in strategy to focus on value over volume when attracting FDI".
Alison Kay, managing partner for client service at EY UK & Ireland, believes the latest statistics show the UK still has a "strong investment story to tell".
"Investment intentions are at a record high and almost half of the investors surveyed think the UK's attractiveness will improve in the near-term," she said.
"Significantly, the UK's clear focus on project value over volume continues to bear fruit. Over one-in-four UK projects were linked to research & development or new company headquarters."
A daily dose of IT news, reviews, features and insights, straight to your inbox!
Ross Kelly is a staff writer at ITPro, ChannelPro, and CloudPro, with a keen interest in cyber security, business leadership and emerging technologies.
He graduated from Edinburgh Napier University in 2016 with a BA (Hons) in Journalism, and joined ITPro in 2022 after four years working in technology conference research.
In his spare time, Ross enjoys cycling, walking and is an avid reader of history and non-fiction.
You can contact Ross at ross.kelly@futurenet.com or on Twitter and LinkedIn.
A daily dose of IT news, reviews, features and insights, straight to your inbox!
Thank you for signing up to ITPro. You will receive a verification email shortly.
There was a problem. Please refresh the page and try again.