DataWorks Summit 2019: Cloudera allays post-merger fears with '100% open-source' commitment
The firm insists its vision for an 'enterprise data cloud', coinciding with a rebrand, "isn't just marketing fluff"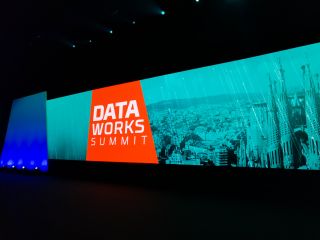 The 'new' Cloudera has committed to becoming a fully open-source company, having followed an open-core model prior to its $5.2 billion merger with former rival Hortonworks.
All 32 of the current open source projects found between both Hortonworks and Cloudera's legacy platforms will remain available as cloud-based services on its new jointly-developed Cloudera Data Platform (CDP).
There were fears Cloudera's influence could undermine the "100% open source" principles that underpinned Hortonworks, given the former had previously been just an 'open-core' company. This amounted to a business model in which limited versions of Cloudera projects were offered in line with open source principles, with additional features available at a cost.
Cloudera first made reassurances over its commitment to open source on a conference call with journalists last week. This call was made to explain the firm's dismal Q4 2018 financial results which saw the company's net losses double post-merger to $85.5m.
The commitment, which Cloudera elaborated at the company's DataWorks Summit 2019 hosted in Barcelona this week, has also coincided with a complete rebranding of the company logo, and further elaboration over its vision for an 'enterprise data cloud'.
This, according to the firm's chief marketing officer Mick Hollison, includes multi-faceted data analytics and support for every conceivable cloud model from multiple public clouds to hybrid cloud to containers like Kubernetes.
It would also be underpinned with a common compliance and data governance regime, and would retain a commitment to "100% open source", with Hollison insisting several times to journalists at a press briefing the term "isn't just marketing fluff".
Cloudera's vice president for product management Fred Koopmans told journalists at the same press briefing that both company's existing customers valued the principles of 'openness' - which starts with open APIs.
"They don't view that there is one vendor that's going to serve all of their needs today and in the future," Koopmans said. "Therefore it's critical for them to have open APIs so they can bring in other software development companies that can extend it and enhance the platform.
"What open source provides them is no dead-ends; if they're trying to develop something, and there's a particular feature they need. They always have the option of going and adding a feature with their own development team. So this is a huge driver for a lot of our larger customers in particular."
Cloudera also used the DataWorks Summit to outline its intentions to exclusively chase the biggest enterprise customers, insisting the firm is only interested in tackling big data problems for large companies.
CDP, the embodiment of the new vision, is due to make its way to customers as only a public cloud platform later this year, with a private cloud iteration to follow in late 2019 or early 2020. The platform is a mashing-together of Cloudera's Cloudera Distribution including Apache Hadoop (CDH) and Hortonworks' Hortonworks Data Platform (HDP).
A daily dose of IT news, reviews, features and insights, straight to your inbox!
Keumars Afifi-Sabet is the Features Editor for ITPro, CloudPro and ChannelPro. He oversees the commissioning and publication of in-depth and long-form features across all three sites, including opinion articles and case studies. He also occasionally contributes his thoughts to the IT Pro Podcast, and writes content for the Business Briefing. Keumars joined IT Pro as a staff writer in April 2018. He specialises in the public sector but writes across a breadth of core topics including cyber security and cloud computing.
A daily dose of IT news, reviews, features and insights, straight to your inbox!
Thank you for signing up to ITPro. You will receive a verification email shortly.
There was a problem. Please refresh the page and try again.