Cloud-based artificial insemination helps cattle farmers reap rewards
Cloud-based cow breeding service boosts number of calves and farmer's profits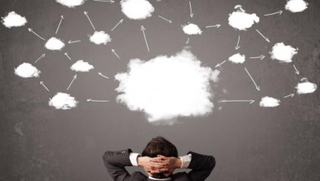 A new cloud-based reproductive service could help farmers improve the number of cows born on their farms.
The reproductive service has been launched by bull stud firm Cogent Breeding. It said the use of cloud would help farmers to maximise reproductive performance in cattle and increase farm profits.
The service, called Precision Reproductive Solutions, offers tailored fertility management for individual herds. According to a report by Farming UK, farmers testing out the cloud service have significant reductions in conception (to around 15 days) and improvements in 21-day pregnancy rates by four per cent within the first six months of use.
As with a lot of cloud services, there is no upfront cost to the customer. In this case, the farmer doesn't have to buy heat detection equipment or herd management software. Cogent Breeding install its Pinpoint heat detection system and cloud-based management software. The service is charged on a 'per-cow, per-annum' basis.
A technician uses these tools to record data such as; calving dates, fertility problems, insemination details and fertility treatments. It also records details such as medicine usage and vet visits.
The cloud-based service, developed by Cogent, also links up to the Worldwide Mating Service that ensures cows are matched with the correct bull.
All data in the cloud can be transferred to third parties, such as vets, nutritionists and milk recording agencies. It also features reporting functionality to alert farmers when cows are due to calve and when cows need a check up by a vet as well as alerting them when a cow is ready to be inseminated.
Michael Phillips, UK sales manager at Cogent, told Farming UK that dairy farming businesses generate a huge amount of valuable data, "which if processed and analysed properly can help farm and herd managers make better informed management decisions. All too often, however, a lot of this data remains unused, or at worst, misinterpreted."
He added that collecting key data into one central place in the cloud would would enable farmers and herd managers to "have a more thorough understanding of each cow and are therefore able to make better, more informed management decisions that are right for each individual animal and for the herd as a whole.
"That in turn paves the way to more profitable milk production," he concluded.
Stay up to date with the latest news and analysis from the world of cloud computing with our twice-weekly newsletter
Rene Millman is a freelance writer and broadcaster who covers cybersecurity, AI, IoT, and the cloud. He also works as a contributing analyst at GigaOm and has previously worked as an analyst for Gartner covering the infrastructure market. He has made numerous television appearances to give his views and expertise on technology trends and companies that affect and shape our lives. You can follow Rene Millman on Twitter.
Thank you for signing up to Cloud Pro. You will receive a verification email shortly.
There was a problem. Please refresh the page and try again.