Sophos puts mobile device management in the cloud
Security vendor hails time saving and reduced hardware costs of cloud-based MDM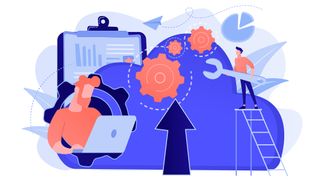 (Image credit: Shutterstock)
Security firm Sophos has launched a hosted version of its mobile device management (MDM) product, Sophos Mobile Control.
The new offering will allow the company's partners to give customers more choice in how they deploy MDM within their organisations.
The service is based on the recently released Sophos Mobile Control 2.5. The company said the new service should allow businesses to deploy MDM without any changes to their existing IT infrastructure, easing some of the management burden on IT.
As well as this, the firm is also planning to introduce a full range of hosted security applications.
Sophos said the service could be implemented "within minutes", whereas more traditional products require planning and expertise businesses new to mobile device management often lack.
The service could also carry out numerous tasks from creating policies to uploading lists of users and developing Acceptable Use Policies for employee-owned devices through the web-based admin console, added Sophos.
The self-service portal is designed to be intuitive and also benefits from having no hardware on the customer site, resulting in savings to both capital and operating expenditures, as no maintenance is required.
"Security applications are rapidly moving toward the cloud to provide flexibility and scalability, which today's businesses demand," said Matthias Pankert, vice president, product management at Sophos.
"With limited resources and a multitude of security solutions to manage, mobile devices in particular are often left uncontrolled. Our SaaS-based solution ensures these devices are controlled and managed, even for small groups of users within a company."
Analysts said the expansion of "Bring Your Own Device" programmes and the prevalence of mobile devices on business networks means mobile device management is an issue for companies of all sizes.
Stacy Crook, mobile enterprise research senior analyst at IDC said this presented "a great opportunity for resellers and other solution providers, as many companies are looking to their IT consultants for help managing mobile devices."
Stay up to date with the latest news and analysis from the world of cloud computing with our twice-weekly newsletter
Rene Millman is a freelance writer and broadcaster who covers cybersecurity, AI, IoT, and the cloud. He also works as a contributing analyst at GigaOm and has previously worked as an analyst for Gartner covering the infrastructure market. He has made numerous television appearances to give his views and expertise on technology trends and companies that affect and shape our lives. You can follow Rene Millman on Twitter.
Thank you for signing up to Cloud Pro. You will receive a verification email shortly.
There was a problem. Please refresh the page and try again.