Home Office looks to G-Cloud for future IT
The Home Office has announced it will be the next department to cut large contracts and head to the G-Cloud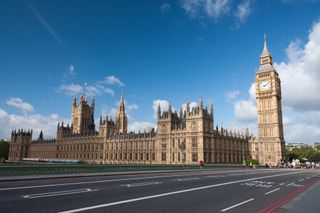 (Image credit: Shutterstock)
The Home Office is set to become the next Whitehall department to adopt the government's G-cloud program.
The move is designed to distance Whitehall from the old multi-million pound outsourcing contracts which held sway in its IT departments. The Home Office currently has two major contracts in place supplying its tech – with Fujitsu and Atos – that will expire in 2016 and will not be renewed.
In a pre-recorded webcast, Denise McDonagh, Home Officer CTO, invited SMB IT suppliers to get involved with the new Reset4 project which aims to help smaller companies secure contracts with the government.
"Reset4 was established to change the way we build, procure and manage our IT to ensure we can deliver the high-quality responsive service the Home Office needs," said McDonagh. "By 2020 the Home Office will look different to the way it looks today."
The Home Office spends about £350 million on its IT procurement annually, not including subdivisions of the department, like the police and emergency services.
"Between now and 2016, we will move away from being locked into massive end-to-end contracts, or tied to particular technologies, to a model in which we have far greater flexibility to change our IT in response to changing needs," added McDonagh.
In the webcast McDonagh reiterated the importance of the government's cloud platform G-Cloud - which she had formerly been director of – as a way to encourage SMBs to get involved in supplying the Home Office.
G-Cloud has not been without its controversies, as Vince Cable clashed with evangelists over using multiple small suppliers, rather than larger firms. His department, for Business, Innovation and Skills, experienced email and networking outages that stopped his teams from working for a day.
A Skyscape survey also showed that public companies are worried about using the government's cloud services.
"I am very keen to exploit the benefits that procuring through G-Cloud gives in terms of the range of suppliers and how we can buy more innovative and cost-effective services through that route," McDonagh continued in the webcast.
"This presents a huge opportunity for the SME market that hasn't been there before."
Stay up to date with the latest news and analysis from the world of cloud computing with our twice-weekly newsletter
Thank you for signing up to Cloud Pro. You will receive a verification email shortly.
There was a problem. Please refresh the page and try again.