Salesforce and Oracle team up for cloud integration
Nine-year deal covers all aspects of cloud computing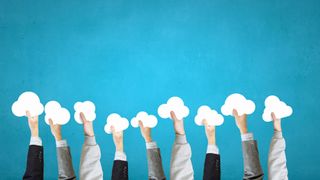 Salesforce and Oracle have entered into a nine-year partnership that will see Salesforce standardise its platform for Oracle products, while the software giant will integrate Salesforce's offerings into its own.
The Software-as-a-Service (SaaS) giant is to standardise its CRM platform on the Oracle Linux operating system, Exdata engineered systems, Oracle Databases and Java Middleware Platform, according to a statement from Oracle.
For its part, Oracle will integrate Salesforce with its Fusion HCM and Financial Cloud.
This, the company claims, will provide the core technology to power Salesforce's applications and platform.
Marc Benioff, chairman and CEO of Salesforce, said: "Larry [Ellison] and I both agree that Salesforce.com and Oracle need to integrate our clouds.
"Salesforce.com's CRM integrated with Oracle's Fusion HCM and Financial Cloud is the best of both worlds."
Larry Ellison, CEO of Oracle, added: "When customers choose cloud applications they expect rapid low-cost implementations; they also expect application integrations to work right out of the box – even when the applications are from different vendors.
"That's why Marc and I believe it's important that our two companies work together to make it happen, and integrate the salesforce.com and Oracle Clouds."
This is the second big deal announced by Oracle and a former rival within the past 24 hours.
As hinted at on 20 June, the company has also entered into an agreement with Microsoft to run Oracle software on the Microsoft Hyper-V hypervisor and Windows Azure cloud platform.
A third announcement is expected regarding an alliance with NetSuite, however the company has declined to comment ahead of any formal statement from Oracle.
Stay up to date with the latest news and analysis from the world of cloud computing with our twice-weekly newsletter
Jane McCallion is ITPro's Deputy Editor, primarily covering security, storage and networking for ITPro, CloudPro and ChannelPro.
Jane joined ITPro and CloudPro in July 2012, having previously written freelance for a number of business and finance magazines. She has also covered current affairs, including the student, public sector workers and TUC protests and strikes in central London while studying a Masters in Journalism at Goldsmiths, University of London.
Prior to becoming a journalist, Jane studied Applied Languages at the University of Portsmouth.
Thank you for signing up to Cloud Pro. You will receive a verification email shortly.
There was a problem. Please refresh the page and try again.