Cloud market expected to surge at a rate of 18% by 2023
The retail sector will experience the biggest levels of growth to improve customer experience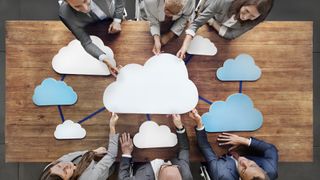 (Image credit: Shutterstock)
A report into the global cloud market has revealed that the value of cloud services could grow by an annual rate of 18% between 2019 and 2023 as businesses look to automate more services and deliver better experiences to customers.
Other primary growth drivers are that businesses want to save costs and obtain a higher return on investment for their tech services according to Research and Markets' Cloud Computing Market by Service Model, Deployment Model, Organization Size, Workload, Vertical, and Region - Global Forecast to 2023 report.
The retail and consumer goods vertical will experience the highest rate of cloud growth of any of those explored by Research and Markets. This is due to the "rising purchasing power of customers" and a drive to improve customer engagement through innovation. Businesses need to attract and retain customers and the cloud is a key facilitator to do this.
Retail businesses have traditionally focused on the use of cloud for storage, backup, and security services. But this is set to change in the coming years, when firms will be driven to innovate using the cloud, particularly in the online retail experience.
Infrastructure as a Service (IaaS) will be one of the key areas of growth as it helps companies to scale their business and improve performance compared to legacy architecture. It means companies can focus on their core business while IaaS allows for great collaboration and flexibility.
Although signs are good for growth, there are also some key concerns that may stand in the way of higher growth rates. Cyber attacks and lack of skills could mean that the value of the global cloud market can't grow as rapidly.
Stay up to date with the latest news and analysis from the world of cloud computing with our twice-weekly newsletter
Thank you for signing up to Cloud Pro. You will receive a verification email shortly.
There was a problem. Please refresh the page and try again.