Kim DotCom says Mega is unsafe, but has an alternative planned
The new service will be open-source and non profit, similar to the Wikipedia model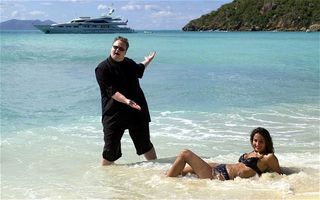 Internet entrepreneur Kim DotCom plans to create a new cloud-based service to compete with Mega and Megaupload, cloud storage platforms he also created but believes are no longer secure.
DotCom said when his existing non-compete clause ends at the end of 2015, he will set up, "a Mega competitor that is completely open source and non-profit, similar to the Wikipedia model. I want to give everyone free, unlimited and encrypted cloud storage with the help of donations from the community to keep things going."
He said Megaupload is probably no longer safe, explaining that following raids on his New Zealand home in 2012, authorities are now trying to close the service down by seizing shares in the company that were prevously owned by an anonymous Chinese investor.
He now does not believe anyone's data is safe in the service and therefore urged people to stop using it.
"Hollywood has seized all the Megashares in the family trust that was set up for my children," he said. "As a result of this and a number of other confidential issues I don't trust Mega anymore. I don't think your data is safe on Mega anymore."
Mega denied DotCom has had anything to do with Mega anymore, but is owned by 17 publicly disclosed investors, adding that there was no 'hostile takeover' as the internet mogul claims.
DotCom transferred his shares in the website to his wife in 2013 when he ceased being a director, but they are now separated and he is caught up in a bitter legal battle which, sources claim, will probably lead to divorce.
His latest proposed venture comes after he unveiled a Skype competitor, MegaChat, in January 2015.
Stay up to date with the latest news and analysis from the world of cloud computing with our twice-weekly newsletter
Thank you for signing up to Cloud Pro. You will receive a verification email shortly.
There was a problem. Please refresh the page and try again.