Heat your house with the cloud
German firm installs servers in buildings, recycles excess heat to warm homes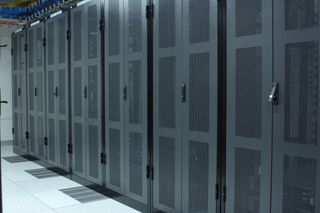 A German firm has come up with a way to use excess heat from servers to heat buildings.
Cloud&Heat installs servers in business premises and homes, and the heat generated from them is used to warm the premises.
For €12,000, the firm will install racks of servers inside a secure, fireproof safety cabinet. The cabinet is then connected to buffer tanks that heat up and provide heating and hot water for free over a 15 year period.
In the summer, heat generated from the servers is vented out to stop a building becoming a sauna. The system can also be integrated with existing heating systems.
Cloud&Heat cover the internet connection and electricity costs involved in operating the servers. Maintenance engineers come on site periodically to carry out checks and servicing, and once every three years the racks are updated with new hardware.
The servers, which are dotted all around Germany, are connected together to form a decentralised cloud. Data is stored across several locations. This, the firm said, "enables greater availability of the data and leads to a shorter latency period with local services".
"We also adhere to the highest security standards, with the exact locations not being disclosed. The owners of the buildings do not have access to the server cabinets in the buildings," the firm said.
In keeping with stringent German data protection laws, data is stored within the country's boundaries in encrypted form and is triple-replicated. Data is also stored across multiple locations so failure in one cabinet doesn't end in a loss of data to the customer.
Cloud customers can rent virtual machines with up to eight vCPUs, 960GB of storage and 32GB of memory. The firm also offers customers block and object storage.
The systems are currently only available in Germany, but similar schemes exist in France and the Netherlands.
Stay up to date with the latest news and analysis from the world of cloud computing with our twice-weekly newsletter
Rene Millman is a freelance writer and broadcaster who covers cybersecurity, AI, IoT, and the cloud. He also works as a contributing analyst at GigaOm and has previously worked as an analyst for Gartner covering the infrastructure market. He has made numerous television appearances to give his views and expertise on technology trends and companies that affect and shape our lives. You can follow Rene Millman on Twitter.
Thank you for signing up to Cloud Pro. You will receive a verification email shortly.
There was a problem. Please refresh the page and try again.