SMBs welcome tear-down of Whitehall's least popular cloud framework
Suppliers say Digital Services Framework's replacement will make their lives much easier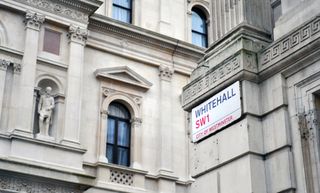 SMBs have welcomed the government's decision to effectively scrap a much maligned cloud procurement scheme, after overwhelming criticism prompted a Whitehall rethink.
The Government Digital Service (GDS) has revealed that it will perform a complete overhaul of the Digital Services Framework (DSF), to the extent that it will essentially become a brand new framework.
The initiative is designed to let public sector departments hire in expertise to help them with cloud projects.
But suppliers have accused it of encouraging bodyshopping – hiring developers out of a company to use in-house, rather than hiring companies to complete projects.
Director of the GDS's digital commercial programme, Tony Singleton, wrote in a blog post last week: "It has become clear from user research that Digital Services needs to be completely redesigned to the extent that it will essentially be a new framework. We're even considering giving it a new name that more accurately reflects its purpose."
The DSF's replacement would let buyers hire a team or "digital specialist" for specific tasks, according to Singleton, and give them access to resources, such as hiring user research labs to test new services.
He added: "We've had feedback from suppliers who want to be able to supply teams of people, focussed on addressing specific needs and outcomes, rather than body shopping. As a result, we're designing the new framework to meet this need."
DSF's criticism at the hands of suppliers has been reflected in performance – total spending since its 2013 launch stood at £16.4 million as of April, despite Whitehall predicting a £40 million spend in its first nine months.
In contrast, G-Cloud – the cloud commodity framework that sits alongside DSF under the Digital Marketplace umbrella - has seen £591 million pass through its framework since its 2012 launch.
Better for buyers and suppliers
However, suppliers have welcomed the proposed overhaul, saying it will make the framework easier to use for suppliers, and clearer to buyers.
Harry Metcalfe, CEO of public sector web experience supplier Dextrous Digital, said: "This is all great news. Re-orientating the framework around teams, specialists and supporting resources is a much more sensible approach – a closer fit both to the needs of buyers and the capabilities of suppliers."
G-Cloud supplier Skyscape suggested that an overhaul could result in attracting a wider range of suppliers to the DSF's replacement.
Commercial director Nicky Stewart told Cloud Pro: "It will enable suppliers to provide services which key into their core strengths, and will therefore deliver significantly more innovation and value to the buyer.
"It will also make the DSF more attractive to suppliers – many, particularly SMBs, have neither the desire nor capacity to sell headcount. The buyer will benefit from more suppliers with more capability and the ability to bring innovative solutions to the table."
The DSF's replacement framework will be available on the Digital Marketplace by January 2016, Singleton said, after a period of engagement with suppliers.
Metcalfe said this step would help the GDS ensure the new framework better suits SMBs by involving them in its creation.
"I'm looking forward to lots more useful and interesting conversations," he said. "I'm convinced that an open process is the fastest way to get to good things, and the more people who pitch in, the better."
Details are sparse so far on the overhaul, but Singleton promised to continue to "think out loud" via Gov.uk blogs to keep people updated.
Digital Services Framework 2
Despite acknowledging DSF needs an overhaul, the GDS is pushing ahead with a planned release of DSF2, the second iteration of the framework, which is expected to go live "soon", according to Singleton.
However, G-Cloud 5, has been extended for six months until November to address ongoing concerns about DSF body shopping.
G-Cloud 5 allows suppliers to list agile services - hiring in skills - just as they can on DSF, but unlike DSF, the more popular framework hasn't appeared to encourage body shopping.
Despite this, Singleton ruled out a move to scrap DSF altogether to include agile only on G-Cloud, claiming it would increase the burden on suppliers.
But Skyscape's Stewart disagreed, saying: "Digital Services were being sold without issue via G-Cloud Lot 4 prior to the introduction of the DSF.
"Buyers would have a one-stop-shop with terms and conditions that were consistent. We struggle to understand how this approach would place an additional burden on the suppliers."
Responding to last week's blog post, trade industry body techUK welcomed the proposed redesign of DSF.
Central government programme manager Conor Murray said: "Overall, it is great to see so many new ideas and developments.
"We look forward to working with GDS and the Crown Commercial Service to help them engage with the market on the redesign of the framework, and ensure that views from across the industry are heard."
Stay up to date with the latest news and analysis from the world of cloud computing with our twice-weekly newsletter
Thank you for signing up to Cloud Pro. You will receive a verification email shortly.
There was a problem. Please refresh the page and try again.