Amazon Contact Lens gives call center managers real-time call insight
Call center managers can intervene earlier, reducing customer churn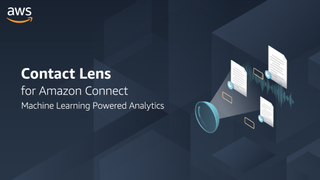 Amazon Connect, Amazon Web Service's cloud-based contact center service, gives call centers a scalable, easy-to-use platform they can hone to meet their needs. Today, AWS announces Contact Lens, a new analytics addition for Connect that delivers real-time data on past and current calls to help boost customer service, enhance compliance and even increase customer retention.
Contact Lens is a versatile, pay-as-you-use system that leverages machine learning to analyze calls real-time and store key information for future use. A call center manager can use Contact Lens to search for a particular keyword or action and find all calls associated with it. Later in 2020, lens will offer real-time call analysis, so managers can intervene in live calls earlier.
The manager can also use the search feature to uncover all types of issues, including long pauses and customers and agents talking over each other and more. It can also catch compliance violations and off-script improvisations so the manager can retrain the agent, if needed.
This system uses natural voice recognition to uncover current issues. For example, if a customer calls to complain that a price was wrong online or they found a better price elsewhere, Contact Lens can flag these keywords and alert the manager.
Contact Lens' analytics are extremely deep too, as it not only creates, stores and analyzes call transcripts, but it also outlines caller and agent sentiment throughout the call. So, if a caller's sentiment begins to go downhill, the manager can intervene. It also provides a visual representation of call characteristics and sentiments for quick consumption.
Privacy is a huge concern with call transcriptions and compliance in many industries. Contact Lens uses machine learning to detect sensitive information, like names, addresses and Social Security numbers, and redacts them. Admins can control who can access the unredacted files.
RELATED RESOURCE
IT Pro 20/20: A quantum leap for security
The sixth issue of IT Pro 20/20 looks at the state of cyber security in 2020 and beyond
According to AWS, Contact Lens can get call data to a manager in just minutes. Plus, Contact Lens delivers rich metadata like sentiment, categorization labels, talk speed and interruptions that integrates with various systems, like a CRM.
Amazon Connect customers can register for Contact Lens now. For the first 5 million minutes per month, pricing runs $0.015 per minute. After exceeding 5 million minutes in a month, the price falls to $0.0125 per minute.
A daily dose of IT news, reviews, features and insights, straight to your inbox!
A daily dose of IT news, reviews, features and insights, straight to your inbox!
Thank you for signing up to ITPro. You will receive a verification email shortly.
There was a problem. Please refresh the page and try again.