Cloud Foundry looks to embrace Kubernetes
After years of hesitancy, the foundation is ready to take the plunge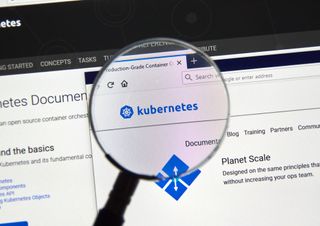 (Image credit: Shutterstock)
We're now getting used to the idea of virtual conferences, but while they work very well at getting the information across, what's often lacking is the shock when any organisation or vendor establishes a new path or announces a new direction.
The recent Cloud Foundry Summit is a case in point. The open source software organisation has coalesced its offerings around Kubernetes and announced several new projects to support the container technology, but according to Cloud Foundry Foundation executive director Chip Childers, this decision wasn't straight forward.
"There was a split opinion around the community," Childers told attendees, "just how much should we accept and embrace Kubernetes." It was a difficult decision, as Kubernetes was emerging as a de facto standard for containerisation but, on the other hand, there was a definite feeling that it was not really a part of the Cloud Foundry ecosystem.
That's all now changed. The organisation has thoroughly embraced the technology. "Kubernetes is the new infrastructure, it's going to be ubiquitous," he said.
It's a view that's been whole-heartedly supported by the vendors in the Cloud Foundry ecosystem. Ian Andrews, VP of marketing for VMware Tanzu says that "the concentration on Kubernetes was a view very much shared by the team at VMware".
What helped the decision making process is a number of mergers and acquisitions in the ecosystem – notably VMware's purchase of Pivotal – and that set the path for a new direction.
Mainstream clout
Andrews says the deal combined the best of both worlds; Pivotal had created a name for itself in the Cloud Foundry community, "but had a relatively small number of users. VMware with its user base in the tens of thousands added that Cloud Foundry expertise to its range of products." This integration has seen the emergence of the Tanzu brand, a means of adding Kubernetes to the VMware portfolio.
The concentration on Kubernetes and the enhanced participation of VMware has definitely provided a boost to Cloud Foundry, which perhaps has never quite had the clout it should, even though it's a well-established platform and, most importantly of all, has a thriving, almost fanatically devoted user base.
This has meant that it could never be ignored but, at the same time, it's never permeated public consciousness. "Cloud Foundry has one major problem," says Bryan Betts, principal analyst for Freeform Dynamics, "within the open source community it's seen as rather like your dad's open source: It's been around for some time and it's seen as rather dull."
In most areas of IT, longevity would be seen as a bit of an asset. There are too many flavours of the month that attract a heap of interest, generate plenty of hype and vanish as quickly as they appear. In such a world, Cloud Foundry's robustness and stability should be cherished but, as Betts points out, that's not always been a positive sign within the open source world.
"What Cloud Foundry has been doing has been very exciting. Some of the things that they were doing two or three years ago were ahead of their time and were precursors of the whole microservices movement – that's now been forgotten. Cloud Foundry is finding that perception is all – and this is an industry built on perception."
It's something that the Foundation dearly wants to change. It hopes that its new found wholesale adoption of Kubernetes will provide Cloud Foundry with the kick-start it needs.
Applying a devops model
The first of the projects revealed to the wider world at the summit is CFfor-K8s, software aimed at making the transition to Cloud Foundry easier. CF-for-K8s enables users to run Cloud Foundry instances on top of a Kubernetes platform – offering what the Foundation claims is an easy integration between the two technologies. Childers claims that the new project would enable users to spin up Cloud Foundry within just ten minutes – a big claim, considering that Cloud Foundry hasn't always been the most intuitive pieces of software.
The flipside of CF-for-K8s is KubeCF, which offers a way for Cloud Foundry users to run Kubernetes. This is more established software, however, and it was version 4.5 that was released at Cloud Foundry Summit.
Freeform Dynamics' Betts says that one way of thinking about the relationship between CF-for-K8s and KubeCF would be to consider the devops model. "Think of CF-for-K8s as being the dev side will KubeCF is the ops part – and that part is just as important," he says.
The third new release is a new version of Stratos, the management console for Cloud Foundry clusters. The new version, 4.2, adds support for native Kubernetes clusters and Helm chart repositories.
All of these show how Kubernetes is beginning to be more integrated into the ecosystem and there's a hope in the Foundation that this will herald a new boost to adoption. Childers sees plenty of opportunity for growth. "There's a perception that Cloud Foundry is only for large corporations; if that were true, it's because that's where the skillset was," he said.
He sees plenty of opportunity for small companies to use Cloud Foundry – the closer integration with Kubernetes will provide a pathway for these users.
This is still a growing area for a lot of smaller organisations and there's plenty of new opportunity now for growth. The Cloud Foundry project may have been slow to recognise the significance of Kubernetes but it's catching up now and is using it as a springboard for new areas. Current systems are immensely complicated, says Andrews, but this is changing, the embrace of Kubernetes will help. "We're getting to that moment of peak complexity, we've climbed the mountain and on the downwards slope," he adds.
Betts sees the potential for Cloud Foundry if they can crack this perception issue. "There are people who have started new projects and found it's something that Cloud Foundry already does." He says that the Foundation has all the right elements in place but users have to be informed. "They have to know it's there and have to know what to do with it," he says. It seems that the Foundation is on the right path to do that.
Get the ITPro. daily newsletter
Receive our latest news, industry updates, featured resources and more. Sign up today to receive our FREE report on AI cyber crime & security - newly updated for 2023.