On-premises vs cloud: Which is better for your business?
We put the two most popular hosting techniques head-to-head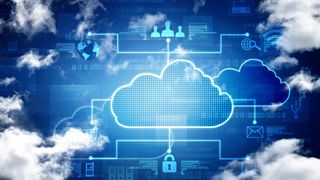 (Image credit: Shutterstock)
True to its name, on-premises computing is all about installing the necessary hardware and software on-site to run applications. The cloud, on the other hand, makes IT resources remotely accessible through the internet.
From set up to operation, all aspects of on-premises software deployment are handled internally.
Conversely, cloud computing entails using third-party servers to host data and applications.
While both approaches have their advantages, an increasing number of organizations are adopting cloud-based solutions to store, manage, and process mission-critical data.
According to IDC, businesses will adopt the cloud twice as fast by the end of 2021 as they did before the pandemic. The five-year compound annual growth rate (CAGR) for cloud spending is expected to reach over $500 billion by 2023, up from $229 billion in 2019.
The forecast makes one thing clear: The cloud will increasingly influence IT for years to come. Even so, the cloud remains a mysterious entity for security-critical organizations. Legacy on-premises systems tailored to companies' specific needs continue to challenge the cloud.
Many factors – performance, cost, and security – influence the choice between on-premises or cloud computing. To help you make an informed choice, we've listed the pros and cons of each deployment model below.
Key differences between on-premises and cloud
1. Deployment
On-Premises: In an on-premises environment, IT resources are deployed in-house on the organization's local server. Besides installation, the organization also performs maintenance and upgrades.
Cloud: A service provider fully manages a cloud solution. By having your software hosted in the cloud, there's no worrying about maintaining your software or the hardware it runs on. The cloud service provider takes care of all the upgrades, compatibility, and IT support.
2. Security
On-Premises: Because data is stored locally on a server, the risk of theft or misuse remains low. In any case, organizations are solely responsible for the policies they enact and the type of security they implement. Organizations may use proprietary software to safeguard sensitive data, such as confidential client information, employee personal data, and financial records.
Cloud: Depending on business and security concerns, customers can choose between private, public, or hybrid cloud models. Cloud service providers also include disaster recovery and redundancy protocols to assure data security. An audit of the service provider's SOC compliance is the best way to ensure they meet an organization's security requirements.
3. Cost
On-Premises: On-premises systems call for a significant upfront investment, from procuring servers to handling upgrades, and more. It also takes a dedicated team of technical support personnel to keep a physical server functional.
Cloud: Service providers automatically update cloud servers. A monthly or annual subscription enables businesses to use services on a pay-as-you-go basis. The arrangement makes for a cost-effective operating expense.
4. Scalability
On-Premises: Organizations can scale on-premises servers, but it comes at a cost. Aside from investing in licenses and other hardware initially, newly installed servers require additional IT staff to service and maintain them. Regardless of whether the spike is only temporary, substantial capital is diverted to meet storage/application needs.
Cloud: Scaling is relatively straightforward with cloud computing. When businesses witness a spike in application requests, they can simply upgrade to a superior cloud plan. This flexibility is made possible by the servers' virtual location and resources, which may be increased or decreased conveniently to suit business needs.
5. Accessibility
On-Premises: Server systems that run in an on-premises environment do not rely on internet connectivity, which is why they are more accessible in areas where internet connectivity is limited or unavailable.
Cloud: On the upside, cloud systems support remote desktop connections. However, access to cloud resources requires a stable internet connection at all times, a lack of which can lead to sudden downtime.
6. Customization
On-Premises: With an on-premises solution, customization is unlimited, from granular code changes to dedicated modules. Continuous in-house maintenance and support ensure client applications are compatible with on-premises solutions.
Cloud: Cloud vendors cater to a wide range of businesses. There are often multiple use cases for the same module reducing the customization options. Organizations may also lose internal customizations during an upgrade.
7. Storage
On-Premises: On-premises data storage incurs indirect costs as servers become obsolete. A server's average lifespan is three to five years. In most cases, it's after the primary warranty expires that organizations begin to consider replacing their server. Even so, one major benefit of data storage on-premises over cloud storage is security.
Cloud: In cloud computing, data is stored remotely on servers or hardware maintained by a third-party service provider. This allows users to purchase storage resources on a pre-paid or per-use basis. Cloud resources may also be shared in a multi-tenant environment.
8. Real-time support
On-Premises: When an on-premises solution hits a roadblock, dedicated IT personnel in an organization immediately tend to the problem. With a solution specifically tailored to their needs, businesses find troubleshooting relatively straightforward.
Cloud: Cloud vendors do offer free 24/7 customer support. However, there's a good chance issues flow through a ticketing system. Impact and emergency determine priority order. Typically, tickets with the highest priority are addressed first. The longer the queue, the longer the wait time.
Putting it all together
It's a close call between cloud or on-premises. While the cloud offers more flexibility, on-premises gives you greater ownership. Some industries enjoy the best of both worlds with a hybrid solution that connects on-premises infrastructure and the cloud.
Essentially, a hybrid cloud offers the flexibility and scalability of a public cloud with the protection and control of a private cloud. A hybrid solution also allows an organization to reduce the amount of IT hardware they need.
With a hybrid solution, the on-premises portion is best for storing sensitive data, making it great for organizations that handle important data or financial transactions. The cloud-based side of a hybrid setup is accessible from virtually anywhere at any time, ensuring organizations can easily access data when and where they need it.
Organizations may also choose to use the public cloud as a backup for their private clouds. AWS Outposts, Azure Stack, and Google Anthos top the list of most popular hybrid cloud services.
Get the ITPro. daily newsletter
Receive our latest news, industry updates, featured resources and more. Sign up today to receive our FREE report on AI cyber crime & security - newly updated for 2023.
Get the ITPro. daily newsletter
Receive our latest news, industry updates, featured resources and more. Sign up today to receive our FREE report on AI cyber crime & security - newly updated for 2023.
Thank you for signing up to ITPro.. You will receive a verification email shortly.
There was a problem. Please refresh the page and try again.