Building human connections key to cloud-native success
Empathy takes center stage at KubeCon 2023 with avoiding burnout and skills-sharing crucial components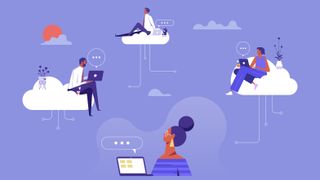 (Image credit: Getty Images)

"A community in bloom" was the tagline for KubeCon and CloudNativeCon 2023, and the cloud native community in attendance across the four-day event certainly demonstrated this.
More than 10,000 people flocked to the Rai conference center in the heart of Amsterdam, making it Europe's largest open source technology event, according to Cloud Native Computing Foundation (CNCF) CTO Chris Aniszczyk.
RELATED CONTENT
Redefining our relationship with cloud technology
While these numbers are, quite frankly, jaw-dropping for a European event, what truly highlights this 'community in bloom' was the progress made by the plethora of projects, maintainers, and tireless contributors helping to propel cloud native in recent years.
As Aniszczyk explained, the scale of project growth at CNCF is quite remarkable, with the organization now boasting 159 projects. This growth has secured the CNCF's position as one of the largest open source ecosystems globally, with 1,300 maintainers responsible for developing projects and managing 200,000 contributors worldwide.
What stands out, Aniszczyk noted, was that this community has evolved significantly in recent years, with a diverse range of new projects emerging. These span a wider array of areas across the cloud native space.
"It's been truly amazing to see how this community has evolved," he said. "In the beginning, we were very much focused on Kubernetes and containers and the evolution of that. But we have grown significantly."
"We have 159 projects as of today that have entered the ecosystem that touch almost everything around cloud native. Not even just the core infrastructure bits, but things like basic security projects, stuff in cost management. We continuously evolve, and I view projects as our core innovation engine at CNCF.
"CNCF has also been growing in terms of our regional chapters. We have over 52,000 folks attending 406 regional chapters all over the world. It's incredible how much this has grown."
The rising risk of burnout and apathy
Indeed, the cloud native space certainly does appear to be in bloom. But while every spring bloom turns to a roaring bright summer, thereafter comes the chill of autumn and winter. There's a risk the cloud native ecosystem could experience inclement conditions with regard to the people that underpin this global community.
RELATED RESOURCE
Green Quadrant: Enterprise carbon management software
Detailing the 15 most prominent carbon management software vendors
Building and maintaining projects is far from easy, and the strain that this places on individuals can be significant, leading to stress and burnout among other issues. The risk of a burnt out, apathetic community would spell serious trouble for the cloud native ecosystem, so it's an issue that must be addressed, according to Dawn Foster, director of open source strategy at VMWare.
"Maintaining an open source project is hard work," she told attendees. "And maintainer burnout is common in open source projects. Even the really big successful open source projects, like Kubernetes, struggle with maintainer burnout and growing their contributor community.
"It can be hard for overworked maintainers to balance the day-to-day work required to keep the project running while also investing in additional activities to increase future sustainability," she added.
This strain, Foster said, affects the balance of projects and those maintaining them, creating a "vicious cycle" where maintainers don't have time to onboard new contributors, leading to fewer contributors and ultimately creating an increasingly strained project.
Avoiding the cloud-native 'glacial melt'
Sticking with a climate-related comparison, Emily Fox, Apple security engineer and chair of the CNCF's technical oversight committee, told attendees the cloud native community is at risk of a 'glacial melt' in the coming years unless more can be done to attract - and retain - contributors and maintainers for open source projects.
In a well-articulated keynote presentation, Fox said "experience and innovation is what allows us to make better and more informed decisions" to sustain open source projects and communities.
"This information is what I call knowledge glaciers," she said. Just like real glaciers, knowledge and experience compact and mature within the cloud native community, creating stronger, more robust projects that are more likely to succeed.
In conversation with GitLab CPO David DeSanto
David DeSanto, chief product officer at GitLab, believes there's still much more to come for AI use cases in DevSecOps.
Read more: AI acceleration represents a 'tectonic shift' for DevSecOps
These glaciers of foundational knowledge and expertise are immensely valuable to the overall health of the cloud native community, but they are at risk of melting due to changing external conditions – not least of all leadership talent.
"We're seeing less individuals step into leadership roles," she added. "Because the time to onboard into these positions is non-existent. That places us in a reactive mode, having that gap in knowledge with no one ready to transition into these roles.
"And that is where glacier melt actually begins to accelerate for our projects."
This again can create a negative cyclical effect, Fox warned. The lack of individuals stepping into leadership roles then places greater strain on those already contributing to or maintaining projects, therein leading to greater burnout and stress.
In the long term, Fox noted this could prevent "information from being transferred from one generation of cloud-native contributors to the next".
Building a proactive community
Fox urged for more contributors to get involved with projects across the cloud native ecosystem to alleviate the stress placed on maintainers and to ensure streamlined succession planning for the next generation.
It's a call that was echoed by other speakers at KubeCon this week and something that appears to be an emerging priority for the community as it continues to experience an influx of new projects and the proliferation of new technologies, such as artificial intelligence.
"Our institutional knowledge is beginning to slip away as we experience turnover in cloud native," she said.
"Those external factors I referenced before are impacting our community and bringing more innovation into our ecosystem, but that's not without additional strain and change on projects if we're not saving our knowledge glaciers or applying succession planning in our cloud-native gardens."
Stay up to date with the latest news and analysis from the world of cloud computing with our twice-weekly newsletter
Ross Kelly is a staff writer at ITPro, ChannelPro, and CloudPro, with a keen interest in cyber security, business leadership and emerging technologies.
He graduated from Edinburgh Napier University in 2016 with a BA (Hons) in Journalism, and joined ITPro in 2022 after four years working in technology conference research.
In his spare time, Ross enjoys cycling, walking and is an avid reader of history and non-fiction.
You can contact Ross at ross.kelly@futurenet.com or on Twitter and LinkedIn.
Thank you for signing up to Cloud Pro. You will receive a verification email shortly.
There was a problem. Please refresh the page and try again.