Cloud skills shortages are pushing developer teams to breaking point
Organizations are struggling to retain overburdened staff and meet digital transformation goals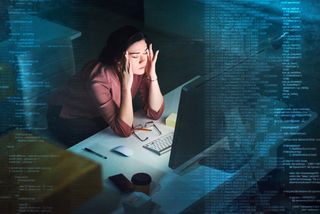 (Image credit: Getty Images)
Cloud skills shortages have pushed developer teams to breaking point over the last 12 months, according to SoftwareOne, with many organizations forced to delay projects and struggling to meet growing demands.
In a survey of IT decision makers from the UK, Benelux, North America, and Australia, the firm found that 43% of businesses have struggled to keep up to date with security, governance, and compliance-related tasks due to a shortage of specialist workers.
Growing workloads and increasing pressure on teams is also prompting an exodus of staff at some firms, the report found, with many struggling to retain critical cloud staff.
Staff shortages mean that four-in-ten organizations have experienced application performance issues and outages in the last year. Similarly, 38% of decision makers said they have missed critical KPIs on delivering new innovations at their business.
"For companies who want to accelerate their digital transformation, closing the cloud skills gap is critical," said SoftwareOne's senior vice president of cloud and application services, Craig Thomson.
"We have seen our clients innovate faster through cloud and application mastery while reducing their risk profile."
Cloud skills shortages are harming overall productivity
SoftwareOne's study described skills shortages as a vicious cycle in which organizations are unable to modernize operations while simultaneously burning out existing staff.
Nearly two-thirds (62%) of respondents said their workloads have increased significantly due to cloud skills shortages. This, in turn, has led to overburdened IT teams and reduced productivity by around 31%.
This lowered productivity has forced some organizations to restrict their cloud usage as existing staff are either too preoccupied to allocate time to projects, or lack the necessary skills.
The added pressure placed on teams has also impacted staff retention, the study warned. Nearly half (40%) of organizations said they have struggled to retain talent over the last 12 months.
Hope on the horizon for developers
Despite current concerns over staff retention and overburdened teams, IT decision makers said they are confident that the cloud skills gap within their organization would improve in the coming years.
RELATED RESOURCE
Access relational databases and thoroughly interrogate data with Presto

DOWNLOAD NOW
87% said they believe the issue will get better within the next five years as more specialist staff enter the workforce.
In the meantime, virtually all survey respondents said they were prioritizing upskilling existing IT teams to adapt to new ways of working over the next 12 months.
More than nine-in-ten said they have engaged with consultancies or managed service providers to plug glaring gaps in their workforce.
"Our research into the cloud skills gap shows how much is at stake," said Thomson.
"The majority of organizations see cloud managed services as a crucial way to bridge the gap, with the option of scaling back these resources as they build their own internal capabilities for the future."
Stay up to date with the latest news and analysis from the world of cloud computing with our twice-weekly newsletter
Emma Woollacott is a freelance journalist writing for publications including the BBC, Private Eye, Forbes, Raconteur and specialist technology titles.