Google Cloud unveils UK data residency options for Vertex AI customers
Vertex AI customers can now keep their data closer to home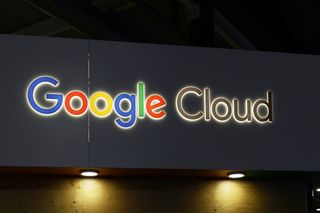 (Image credit: Getty Images/NurPhoto)
Google Cloud will allow UK Vertex AI customers to store their data within the country in a bid to shore up data sovereignty support, the company has announced.
Customers using the generative AI service can choose to host their data in any of 10 available countries across North America, Europe, and Asia - with the list now including the UK.
Data residency options are also available for customers based in the US, Canada, the Netherlands, France, Germany, Belgium, Japan, Singapore and Korea.
Google Cloud said it plans to offer residency options in additional regions in due course.
Vertex AI provides customers with access to a range of large language models, including Meta's PaLM 2, Codey, and Imagen models, as well as the Text Embeddings and Multimodal Embeddings APIs.
Warren Barkley, senior director of product management for AI at Google Cloud, said the move forms part of a concerted effort to expand data residency for customers and meet changing regulatory requirements worldwide.
"Protecting customer data and privacy has always been core to Google Cloud's mission, and this commitment is more important than ever as AI continues to evolve and mass adoption increases," he said.
"This is part of our ongoing commitment to expand data residency for our customers and meet industry demands."
Data sovereignty focus
Data sovereignty has become a recurring regulatory flashpoint in recent months, with lawmakers in the European Union specifically pushing for more stringent rules amidst concerns over data privacy.
A report from Capgemini in 2022 found that a majority of organizations globally plan to introduce sovereignty options for customers, largely due to lingering concerns about compliance.
The European Union Agency for Cybersecurity (ENISA) unveiled plans in May to introduce a 'cyber security label' for non-EU companies operating in the union.
These proposals mean cloud providers such as Microsoft, Google, and AWS, will be required to enter into a "joint venture" with an EU-based firm for regulatory purposes.
The move forms part of a broader regulatory crackdown via the EU certification scheme (EUCS), which aims to establish a union-wide certification regime for cloud providers and companies handling EU data.
In response to these regulatory changes, a host of major cloud providers have introduced new data sovereignty options across 2023.
RELATED RESOURCE
Gain data governance insights that will give your company a strong competitive advantage

DOWNLOAD NOW
In October, AWS announced the launch of its European Sovereign Cloud to offer customers in highly regulated industries "further choice and flexibility to address evolving data residency and resilience requirements".
AWS isn't alone in this push, either. Microsoft announced its own sovereignty options for customers last year. The service, which is aimed at public sector customers, enables them to keep all metadata they create within the EU.
Meanwhile, Oracle announced its European sovereign cloud in May to meet changing regulatory requirements.
The tech giant said the EU Sovereign Cloud will enable private and public sector organizations across the union to exercise "more control over data privacy and sovereignty requirements".
Stay up to date with the latest news and analysis from the world of cloud computing with our twice-weekly newsletter
Emma Woollacott is a freelance journalist writing for publications including the BBC, Private Eye, Forbes, Raconteur and specialist technology titles.