Free cloud storage: The options explained
We like stuff when it's free. So is cloud storage any different?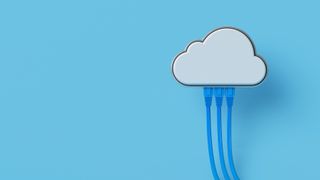 (Image credit: Shutterstock)
You don't buy a car without first taking it for a test drive, so why would you buy cloud storage without making sure it is fit for purpose?
Not all cloud storage is the same. Some come with your smartphone or tablet, others when you sign up for an email service, others when you use online software. When looking at free cloud storage one must be mindful of what it's main use will be. Will it be for backup, to share data among colleagues, or some other reason. Whatever that reason is, it is best to try things out before committing to buy. We help you decide which service it's the right one for you!
Amazon Cloud Drive
URL: www.amazon.co.uk/clouddrive
What is it? The cloud storage service from Amazon gives away 5GB to every Amazon customer. It is a pretty basic cloud storage service. Aside from a web browser and desktop/mobile apps, that's pretty much all there is to say about the service.
The mobile app enables photos to be automatically uploaded and these can be shared on Facebook, through email and other apps.
What do you get for free? The basic service gives you 5GB. There are no incentives to score extra storage for free.
Apple iCloud
URL: www.icloud.com
What is it? Apple's cloud storage service has undergone a few name changes over the years. It used to be .Mac and MobileMe before its present incarnation. It has also taken its time to become a file syncing service. Most of its life it has been a way for iDevices to backup settings, mail, photos, etc. before you could store files.
Even then, iCloud hid behind apps only being accessible via them. It is only since iOS 8 that users have been able to directly interact with files via an app or folder on the desktop.
iCloud integrates very well with Apple's own productivity suite of Pages, Number and Keynote. There is also some integration with Microsoft Office. The service has an aversion to anything Android and won't play with that OS without some subterfuge.
What do you get for free? Every user with an iPhone/iPad/iPod that signs up for an Apple ID gets 5GB for free. Everything else has to be paid for. Once you backup your phone, there is very little to use without giving Apple a monthly stipend.
Box
URL: www.box.com
What is it? Box is more geared to the enterprise customer rather than the individual user (although it works just as well). It works across multiple platforms without fuss and integrates with a number of productivity suites.
On the web interface, users can create new documents in either Microsoft Office or Google Docs or even a Box Note, which is a simple online word processor.
What do you get for free? You can get 10GB of storage for free, but there is an individual file limit of 250MB on the free version. This is more than enough for most office documents and images but perhaps not so good for storing long videos. The free version doesn't support being able to restore a previous version of a file.
Copy
URL: www.copy.com
What is it? Copy is a file synchronisation and storage service backed by IT security firm Barracuda. IT offers file sharing and mobile access. While it doesn't boast extra collaboration features such as productivity software integration, it does boast a feature called "fair storage". While on Dropbox a folder shared between many users would see that folder size count against all their individual quota, with Copy the size of the folder, is shared out equally among users. So, a 10GB folder shared between two people would only take up 5GB of each user's space.
It also offers free business accounts for up to five users. These accounts enable administrators to create a named company and teams and give those teams access to certain folders.
What do you get for free? You get 15GB free storage just by signing up. Occasionally, there are promotions to get an extra 5GB of free storage. You can also get 5GB of free storage (up to 25GB) by referring other people.
Cubby
URL: www.cubby.com
What is it? Cubby is a cloud storage service backed by Logmein. Its free service offers public and private sharing of files and folders, unlimited versioning and file size uploads and 256-bit client-side encryption.
There are also desktop and mobile apps for Windows, Mac, iOS and Android. It creates a master folder that syncs contents across all devices. Users can drag and drop folders anywhere else on the hard drive and Cubby will sync that to the cloud while the original folder stays in its location.
What do you get for free? The basic free service gives users 5GB of storage space. There is an extra 1GB of space for each referral up to 25GB in total.
Dropbox
URL: www.dropbox.com
What is it? The service will synchronise data across multiple devices and platforms and allows you to share files with other colleagues whether they are Dropbox users or not.
The service works with Microsoft Office, allowing you to work on documents from any device. IT also touts integration with over 300,000 apps. Dropbox uses 256-bit AES encryption for storage and SSL for data transfer.
What do you get for free? Signing up for the free service will only give you 2GB of storage, but carrying out a number of tasks, such as tweeting, having a tour of the service or turning on camera uploads, you can up the gigabytes.
Google Drive
URL: drive.google.com
What is it? Drive is Google own file storage and synchronisation service. It enables users to store files in the cloud, share files and edit documents, spreadsheets, and presentations with collaborators.
The service is tightly integrated with its productivity suite comprising Docs, Sheets and Slides. It supports multiple platforms and while its works Microsoft Office on the desktop, it is not integrated with that suite on mobile apps (unlike Box and Dropbox).
What do you get for free? Users signing up for the service get an initial 15 GB of online storage space, that is shared across three of its most-used services: Google Drive, Gmail, and Google+ Photos. Documents using Google Docs native formats (including .gdoc, .gslides, and .gsheet) do not count towards this quota. Uploaded files in Microsoft Office and OpenDocument formats can be converted to Google's formats and stored without counting against the storage quota. Photos under 16-megapixels also get stored via Google Photos without limits.
Mediafire
URL: www.mediafire.com
What is it? Mediafire is the new kid on the block in terms of cloud storage. The firm's been around since 2005 but its service is a recent addition. It offers file and folder synchronisation as per all the others.
Rather than lead with productivity integration, the service offers media playback of photos, videos and songs from within the browser or mobile app. The service also offers collaboration through social media networks.
What do you get for free? When signing up, users get 10GB of storage for free. You can also earn extra free storage when downloading the desktop app and mobile app (2GB a piece). Connecting to social media and posting updates about the service also gains extra storage. Without referring anyone, a user could get 18GB of free cloud storage.
Mega
URL: mega.nz
What is it? Mega bills itself as "the privacy company", Founded by Kim Dotcom (although no longer involved with the company), Mega promises end-to-end encryption with secure access and collaboration.
It comes with mobile apps, a desktop client as well as promising encrypted email and chat as a service sometime next year. There is also a browser extension that claims faster loading and security.
What do you get for free? The service gives users 50GB for free just by signing up. There are no further ways of increasing the amount of free storage.
OneDrive
URL: onedrive.live.com
What is it? Microsoft's own cloud storage service integrates tightly with Microsoft Office unsurprisingly. Unlike Microsoft of old, the service sports apps for not only Windows but Macs, iOS, Android as well as its own Windows Phone smartphones.
The service is baked into Windows 10 and sports the Modern UI design. On Windows, you can selectively sync which files and folders you want, meaning that OneDrive files don't have to take up too much room on laptops and tablets. The service also links up to social networks to ease sharing files with colleagues.
What do you get for free? Users signing up for the service get 15GB of storage free. If you link OneDrive to your mobile, you get another 3GB for free. Referrals up storage by 500MB up to a maximum of 5GB.
Stay up to date with the latest news and analysis from the world of cloud computing with our twice-weekly newsletter
Rene Millman is a freelance writer and broadcaster who covers cybersecurity, AI, IoT, and the cloud. He also works as a contributing analyst at GigaOm and has previously worked as an analyst for Gartner covering the infrastructure market. He has made numerous television appearances to give his views and expertise on technology trends and companies that affect and shape our lives. You can follow Rene Millman on Twitter.