Databarracks buys Securidata, consolidates UK cloud storage business
Secure cloud backup company swallows up rival, hungry for more.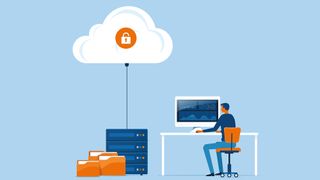 (Image credit: Shutterstock)
Secure cloud backup and IT disaster recovery company Databarracks has bought out rival firm SecuriData for an undisclosed sum.
With the acquisition, Databarracks now claims to be the largest provider of managed online backup services in the UK.
SecuriData was set in 2004 and provides online backup and disaster recovery services to hundreds of customers in the country. With the purchase, Securidata's customers will be ported over to Databarracks' secure hosting facilities hosted by thebunker.net just outside of Ash in Kent. The company has secondary facilities in Newbury Berkshire.
"All SecuriData's customers have been informed of the take-over and our sole objective during this transition is to make sure their service continues without disruption," said Databarracks' managing director, Peter Groucutt. He added taht the move would take two to three weeks.
Groucutt also said that the acquisition would be the first of many purchases as the company seeks to grow market share in the UK. He added that many companies are looking to exit the business as prices get squeezed and hardware becomes more commoditised.
"It promises to be an exciting year for Databarracks as we are actively seeking businesses to purchase," said Groucutt. "We have just been certified to ISO 27001 and ISO 9001 and we are adding lots of new services building on our experience of providing secure and scalable cloud solutions."
He told CloudPro that his company would be expanding into cloud provisioning as more and more customers were expecting to offload on-premise infrastructure onto the cloud.
Groucett added that the traditional way of backing up was transforming via virtualised disaster recover into cloud hosting. "Customers are starting to move all their infrastructure onto the cloud," he said.
He said there was now a real shift over the last decade in technology. "Backups are now automated and when the worst does happen, full recovery in the cloud takes a fraction of the time."
Stay up to date with the latest news and analysis from the world of cloud computing with our twice-weekly newsletter
Rene Millman is a freelance writer and broadcaster who covers cybersecurity, AI, IoT, and the cloud. He also works as a contributing analyst at GigaOm and has previously worked as an analyst for Gartner covering the infrastructure market. He has made numerous television appearances to give his views and expertise on technology trends and companies that affect and shape our lives. You can follow Rene Millman on Twitter.
Thank you for signing up to Cloud Pro. You will receive a verification email shortly.
There was a problem. Please refresh the page and try again.