What is IaaS?
What is infrastructure-as-a-service and what benefits does it offer?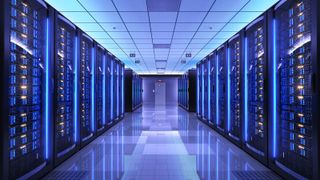 (Image credit: Bigstock)
Infrastructure-as-a-service (IaaS) like most business technology phrases, refers to online services that offer established networks, servers and datacentre infrastructures for companies that don't want the hassle of setting up their own.
The IaaS market is large, with the usual big tech names offering the best options, such as Amazon Web Services (AWS), Microsoft's Azure and Google Cloud Platform. Customers can use IaaS as the base layer of compute, storage and networking to suit their needs, spinning up anything from a single system server instance to thousands of virtual servers, as and when the business requires them.
This is generally a more efficient way to bring in computing resources and reduces the effort and cost of investing in your own hardware. Each resource is offered as a separate component and only needs to be rented out for as long as it is useful.
A company's IT department is free to focus on using technology to improve business operations, as opposed to worrying about purchasing, configuring and maintaining servers.
Typical business uses of IaaS include testing and development, website hosting, storage, backup and recovery systems, high-performance computing and big data analysis.
These are just some of the benefits of IaaS.
What are the core strengths of IaaS?
One of the major strengths of IaaS is its flexibility. Companies need only pay for the resources they actually use, with on-demand instances allowing business to rent by the hour or even the minute. This means companies can quickly add capacity at times of peak demand, without having to waste money on expensive server equipment of their own that will sit redundant during normal levels of demand.
Companies can often make savings by reserving a set amount of computing instances for a period of time, when they know they'll have a constant demand for virtual servers.
And in the case of AMS, it gives businesses the option to pay for "Spot Instances" where a business bids for unused capacity in Amazon's datacentres. This allows companies to be relatively flexible about when their applications run, for example with work on a long-term scientific research project, to take advantage of cheaper prices during quiet periods.
Continuing with the theme of flexibility and the pursuit of cost-effective IT, there are plenty of IaaS providers offering different tiers of service. Different cloud resources can be allocated and billed depending on a business' computing needs and the type of applications they wish to run on cloud servers.
Prices can vary enormously between these different tiers. Microsoft Azure's most basic general computing tier, A0, offers a single processor core, 0.75GB of RAM and 20GB of storage for around £9 per month (prices correct at the time of publication). At the top end, the D14 plan with 16 cores, 112GB of RAM and 800GB of storage will cost £1,240 per month. It's therefore critical that businesses tailor compute power to their needs.
General purpose computing power – which is suitable for testing or applications that don't require advanced tools such as load balancing or automatic scaling – will cost much less than performance-optimised hardware. This higher tier may include SSDs instead of hard disks, faster processors or greater quantities of RAM, and is designed to run live applications where performance is critical.
Why choose IaaS?
Businesses, ranging from startups to global corporate entities, may choose to go with IaaS for a number of reasons.
It could be used to replace or complement existing internal infrastructure, allowing the business to run critical applications and/or a virtual LAN in the cloud. It could be used for data storage, with the company adding capacity only as it's required. It could be used for cloud hosting, with the company running its websites from virtual servers, which can be quickly scaled up and down in response to demand. Alternatively, a business may choose to operate a virtual datacentre, allowing branch offices to feed into the same central resource.
With IaaS providing the means to let a business free itself of some IT hardware investment and maintenance, specifically avoiding the need to buy, run and cool its own server farm or datacentre, the convenience of moving to the cloud and plugging into IaaS services is looking to become the default way of deploying computing power into a business of any size.
Stay up to date with the latest news and analysis from the world of cloud computing with our twice-weekly newsletter
Bobby Hellard is ITPro's Reviews Editor and has worked on CloudPro and ChannelPro since 2018. In his time at ITPro, Bobby has covered stories for all the major technology companies, such as Apple, Microsoft, Amazon and Facebook, and regularly attends industry-leading events such as AWS Re:Invent and Google Cloud Next.
Bobby mainly covers hardware reviews, but you will also recognise him as the face of many of our video reviews of laptops and smartphones.