Lenovo TruScale bundles data centre hardware into a cloud-like model
The service is more flexible for businesses that lack the capital to pay upfront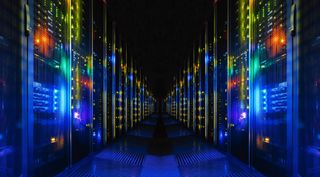 (Image credit: Shutterstock)
Lenovo has launched TruScale Infrastructure Services, a subscription service for businesses to use and pay for data centre infrastructure and associated hardware without paying upfront.
It's particularly well-suited to businesses that don't have the capital to keep paying out for infrastructure as their needs scale up or don't have the IT resources to procure and manage systems.
TruScale Infrastructure Services covers the entire hardware installation, deployment, management, maintenance and removal processes, as well as the equipment infrastructure they need to run everything.
Businesses essentially loan the resources they need to power their workloads and services via a consumption-based model, so there aren't any nasty surprises, even if the company needs to rapidly scale.
"Lenovo's TruScale as-a-Service offering is truly revolutionary, changing how IT departments procure and refresh their data center infrastructure," said Laura Laltrello, vice president and general manager of services at Lenovo Data Center Group. "With our subscription-based model, customers pay for what they use, eliminating upfront capital purchase risk."
"Our offering can be applied to any configuration that meets the customer's needs – whether storage-rich, server-heavy, hyperconverged or high-performance compute – and can be scaled as business dictates."
Customers can also view their data consumption in real time via a centralised portal so they can keep on top of their predicted costs. They're also supported by a Customer Success Manager that will offer greater insights into usage and fix any problems they may come across.
Stay up to date with the latest news and analysis from the world of cloud computing with our twice-weekly newsletter
Thank you for signing up to Cloud Pro. You will receive a verification email shortly.
There was a problem. Please refresh the page and try again.