UCAS and Telefonica clinch project wins at UK Cloud Awards
Two major projects scoop top awards while AWS wins best provider gong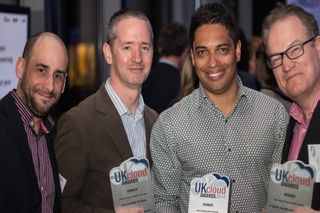 A project to help A Level students find university places more quickly and a major HR reorganisation at a telecoms company were the main victors at last night's inaugural UK Cloud Awards. There was also recognition for Amazon Web Services when it was crowned Cloud Services Provider of the Year.
The Best Public Sector Project prize was won by university clearing house, UCAS, for its work in preventing the organisation's website being overloaded on A Level results day. The organisation worked with Amazon Web Services to transform the website, which on one particular day had to handle workloads 4,000 times higher than usual, and by incorporating Windows Azure and Oracle technology delivered a system that met all the required demands (while coming in at five per cent under budget).
The Private Sector Project award was a triumph for Spanish telecoms operator Telefonica Digital for its efforts in migrating 6,500 people across a variety of different companies to a cloud-based HR system courtesy of Workday.
The UK Cloud Awards are jointly organised by the Cloud Industry Forum (CIF), Cloud Pro and techUK, the UK's organisation for technology companies. Alex Hilton, CIF's CEO, said: "The variety of high calibre entries we received was exceptional, in this first year of the UK Cloud Awards. The quality of the entries and winners show the depth and breadth of the cloud innovation that tangibly exist in live working services today. Cloud has clearly matured and we look forward to seeing further development over the year for an even stronger event in 2015."
The awards, which were sponsored by Ingram Micro, Microsoft and Outsourcery, were presented at a ceremony held last night at London's City Hall. Among other winners were the team at Royal London Asset Management Group for the cloud migration project of the year and newcomer of the year services provider Bigstep. BBC Dragon, Piers Linney, joint-CEO of Outsourcery introduced the ceremony.
He said the launch of the UK Cloud Awards was a reflection of the way the industry had changed. "When we rebranded a few years ago, we couldn't mention cloud as no-one knew what it meant." Linney himself missed out on the Cloud Personality award but was delighted with Outsourcery winning the award for best Collaboration product.
The Cloud Personality of the Year award was given to Memset chief executive Kate Craig-Wood for her evangelical work in promoting cloud services and her work with government bodies in ensuring cloud remains in the forefront of political thinking. It was a good night for Memset, the company also won best Cloud Storage Product for its Memstore offering.
In a surprise announcement on the night, there was a special award for former CIF chairman, Andy Burton, for his devoted service to the cloud industry. Due to his links with CIF, Burton was not eligible for consideration for the Personality award, but the judges thought this efforts in promoting cloud should be recognised.
There were also several product awards, with well-known suppliers such as Google and Splunk mixing with smaller players such as DOSarrest, Databarracks and Clear Books. The two most heavily contested product awards were for Most Innovative Solutions for SMBs and Enterprises, scooped up by Zynstra and Concorde, respectively.
Stay up to date with the latest news and analysis from the world of cloud computing with our twice-weekly newsletter
Max Cooter is a freelance journalist who has been writing about the tech sector for almost forty years.
At ITPro, Max's work has primarily focused on cloud computing, storage, and migration. He has also contributed software reviews and interviews with CIOs from a range of companies.
He edited IDG's Techworld for several years and was the founder-editor of CloudPro, which launched in 2011 to become the UK's leading publication focused entirely on cloud computing news.
Max attained a BA in philosophy and mathematics at the University of Bradford, combining humanities with a firm understanding of the STEM world in a manner that has served him well throughout his career.