Government fleshes out its G-Cloud plans with app store
Strategic documents set out vision, timeline, programme of work and anticipated benefits and savings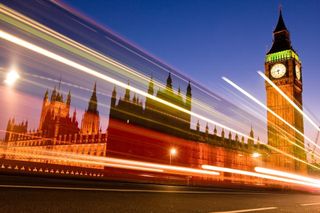 The Cabinet Office yesterday published new strategic documents to flesh out the government's strategic G-Cloud plans, with the aim of saving £460 million per year on IT through to 2015.
The G-Cloud plans were detailed in documents that not only covered the new proposed computing infrastructure platform, but also included end-user device, information communication technology (ICT) capability, and "Greening Government: ICT" strategies.
These strategies are designed to outline the ways that the government is planning to use IT to "create a more productive, flexible workforce that delivers digital public services in a much more cost-effective way," according to a statement issued by the department.
In his comments at their publication, Cabinet Office minister Frances Maude, stated that cloud computing can be used to transform the government ICT estate into one that is "agile, cost effective and sustainable".
"Government will move away from expensive, long-duration bespoke solutions to a common approach – sharing resources and infrastructure to enable us to become a consumer of widely available, ever improving mass market products and solutions" said Maude.
And, taking a leaf out of the IT industry's copybook, he added that many of these "solutions" would be available for reuse from the Government Application Store, to accompany the cloud computing framework plans that were recently revealed to be costing up to £60m.
And initial commodity services – covering areas like collaboration, email, customer relationship management (CRM) and enterprise resource planning (ERP), as well as infrastructure and platform-as-a-service ecosystems – will be established through a Foundation Delivery Partner (FDP) programme run by various government departments and local authorities.
The G-Cloud document also confirmed that the government would seek to use public cloud systems wherever possible in the first instance. But it added that private cloud provision made be necessary in particularly sensitive security areas.
It said this approach would have the effect of open up public sector IT procurement to more common commodity solutions, while giving departments and organisations the ability avoid lengthy procurement and implementation cycles and vendor "lock-in" to long contracts.
Using the "app store" delivery model will allow suppliers to offer products that are already security, performance and service management certified that are offered on a lower cost, pay-as-you-go subscription basis that will also allow smaller to midsized businesses (SMBs) supplying IT to compete with larger incumbents.
Clive Longbottom, founder and business process facilitation service director of analyst Quocirca, told Cloud Pro that the plans looked like a good base document. "It picks up the main benefits that a shared services (oops, sorry, that's old-style talk from seven years ago) platform can provide – and then goes further than I would have expected by proving a project timeline.
"[Although] obviously," he added, "this timeline is the thing to watch, as the Gershon projects and Sir John Suffolk's various recommendations and projects came to little in the long run."
Longbottom added that the big difference with these plans was the acceptance of the fact that cloud has to take on a hybrid approach, "and that the only way that government can get the most out of it is to mix private, public and community".
"Also, what I'm hearing externally is that the government is working with more than the usual suspects in this – it is more open to smaller providers such as Memset as a cloud provider, which will not only be good for UK SMBs, but also enable more competition on cost and value effectiveness."
Mark Taylor, the CEO of systems integrator Sirius IT and a member of the cabinet office SME panel, broadly welcomed the changes, in particular the government apps store. "I think it can open opportunities for smaller software suppliers. I can see some real thinking going on in government"
Taylor was particularly supportive of some of the personnel that the government had brought in. "Mike Bracken, who heads up the government digital strategy, and Liam Maxwell, who has been brought in as a Cabinet Office advisor, are exactly the sort of people that the government need.
He sounded a note of caution, however. "They have set themselves fairly aggressive targets and the world is waiting to see whether they can deliver, said Taylor.
There is also the question of the civil service. Taylor said that in the past, departments had been resistant to change and said that whether they could change was the $20 billion pound question. "To take an example, look at the government's Contracts Finder app, it's fabulous idea but has not been brilliantly implemente and people still do things in the old way. The key determiner for me is whether the new blood is backed. Looks to me like Francis Maude backs it but will others?"
Stay up to date with the latest news and analysis from the world of cloud computing with our twice-weekly newsletter
Thank you for signing up to Cloud Pro. You will receive a verification email shortly.
There was a problem. Please refresh the page and try again.