Only 13 per cent of companies use cloud email
Gartner study shows there is still a way to go before adoption becomes widespread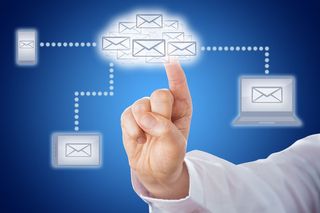 A study by analyst house Gartner has revealed cloud-based email adoption only stands at 13 per cent, with the majority of companies opting to use on-premises, hybrid, hosted or private cloud email managed by smaller vendors.
Unsurprisingly, the two most popular services used by companies for cloud email are Microsoft Office 365 and Google Apps for Work, which take 8.5 per cent and 4.7 per cent of the total cloud-hosted email market respectively.
The report explained that more than a third of companies in the travel and hospitality, professional services and consumer product industries with revenues of more than $10 billion (£6.95billion) are using cloud-based email from either Microsoft or Google.
"Among public companies using cloud-based email, Microsoft is more popular with larger organisations and has more than an 80 per cent share of companies using cloud email with revenue above $10 billion," said Jeffrey Mann, research vice president at Gartner.
Mann added that Google is more popular among smaller companies, with almost 50 per cent of its customers with revenues of less than $50 million (£34.71million).
"Although it is still early days for cloud email adoption, both Microsoft and Google have achieved significant traction among enterprises of different sizes, industries and geographies," explained Nikos Drakos, research vice president at Gartner.
"Companies considering cloud email should question assumptions that public cloud email is not appropriate in their region, size or industry. Our findings suggest that many varied organisations are already using cloud email, and the number is growing rapidly."
The news comes following reports of a Microsoft Office 365 email outage that left many of its customers without access to emails for more than nine days.
Stay up to date with the latest news and analysis from the world of cloud computing with our twice-weekly newsletter
Thank you for signing up to Cloud Pro. You will receive a verification email shortly.
There was a problem. Please refresh the page and try again.