IBM to clean China's air with big data analysis
IBM seals the deal on 10-year plan to help Chinese officials clean up Beijing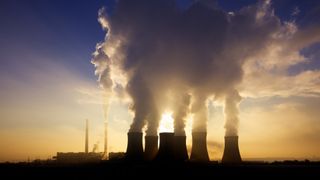 (Image credit: Shutterstock)
IBM has partnered with Chinese officials in an attempt to control Beijing's rising pollution problems.
The company is unveiling a 10-year initiative in partnership with the locality's government to improve the nation's energy systems and protect its citizen's health.
Beijing is one of China's largest municipalities, yet is also affected by some of the worst air quality in the country, with the pollution levels often rising to extremely hazardous levels.
The city is surrounded on three sides by mountain ranges which trap the smog, leading government officials to declare a "war on pollution" in the area.
During its battle against poor air quality, the local government has tried closing factories, roads and byways to curb the rise in pollution. These disruptive measures have irritated its citizens and made little difference, it is claimed.
This is where IBM hopes to step in, organising the local government's policies through the collection and analysis of big data.
The firm hopes to map the problems facing Beijing using computer modelling, as well as predict and study the pollution patterns of the city.
It will install the latest in optical sensors and meteorological satellite data and crunch all the numbers with its jeopardy-loving supercomputer Watson.
It's "Green Horizon" program will see it use big data analytics to readily forecast the availability of renewable energy sources like wind and solar power.
Big Blue plans to liaise directly with the industrial companies in the Chinese city, too, in order to convince them to swap out their smog-churning power sources for more energy-efficient models.
The involvement of a big US company will also give the project credibility, according to Chinese officials, as often Beijingers ignore anti-pollution schemes as a way to get more taxes out of them.
"Even in Beijing, the general public doesn't feel that confident about what the government tells it to do," says Wang Tao, a climate and energy researcher at the Carnegie-Tsinghua Center for Global Policy.
"IBM is a renowned [for] advanced technologies, [the government] will be able to improve the accuracy and the authority of their analysis. People will have to realise they are part of the problem to be part of the solution."
Stay up to date with the latest news and analysis from the world of cloud computing with our twice-weekly newsletter